Why Crimea Now Has the Second-Highest Inflation Rate in the World
Prices are soaring as the peninsula turns to Russia for vital supplies
by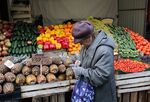 News that inflation is running above 63.4 percent in Venezuela won't astonish anyone familiar with that economy. But the locale with the second-highest inflation rate in the world may be more surprising: Crimea. 
Consumer prices on the Russian-annexed peninsula in December were 42.5 percent higher than a year earlier, according to data released this week by Crimea's official statistics service. Prices for some food items, such as eggs, meat, flour, and fruit, were up more than 60 percent. That pretty much wipes out the hefty increases in government salaries and pensions that Moscow announced for Crimea after its annexation last spring.
There's no longer any doubt that Crimea's economy has taken a devastating hit over the past year. Tourism, its biggest industry, was down almost 50 percent last summer. With the banking system in shambles, most business now is transacted in cash. Over the Christmas and New Year holidays, Crimeans endured hourslong blackouts as Ukrainian suppliers cut off power. The government in Kiev said Crimea had been exceeding consumption limits at a time when energy is being rationed across Ukraine.
Crimea's only land connection to the outside world is via Ukraine—which, until its annexation by Russia, was the peninsula's major supplier of everything from tourists, to food, to electric power. Ukraine has sharply curtailed land shipment of goods to Crimea, so most consumer goods now come by ferry from Russia. But capacity on the ferries is limited, leading to shortages and higher prices.
Vladimir Putin has promised to invest some 681 billion rubles ($10.6 billion) in Crimea's economy, including construction of a bridge to the Russian mainland. But the investment will be spread out over five years, and it's now becoming clear that one of the biggest beneficiaries will be Russian oligarch Arkady Rotenberg, a friend of Putin's. Russian newspaper Vedomosti, citing a government official, reported on Jan. 14 that Stroygazmontazh, a company run by Rotenberg, had been selected as general contractor on the bridge contract, estimated at $3.5 billion.
At the same time, sanctions may have impaired Russia's plans to develop valuable Black Sea oil and gas fields off the Crimean coast. Oil companies such as Exxon Mobil and Royal Dutch Shell want to develop the fields, but U.S. and European Union sanctions imposed in December bar Western companies from selling energy-exploration equipment for use in Crimea.
Before it's here, it's on the Bloomberg Terminal.
LEARN MORE