CME Boosts Offer for GFI to $5.60 to Fend Off Lutnick's BGC
Zeke Faux and Zachary Tracer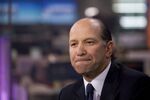 CME Group Inc., the largest U.S. futures market, boosted its offer for GFI Group Inc. to help fend off a competing proposal from Howard Lutnick's BGC Partners Inc.
CME raised its offer to $5.60 a share in cash and stock from $5.25, the company said today in a statement. GFI founder and Chairman Michael Gooch also agreed to pay $282 million for the part of the interdealer brokerage that he's buying with a management group as part of the deal, up from $254 million.
BGC, part-owned by Lutnick's Cantor Fitzgerald LP, has been competing with CME to take over New York-based GFI since September, when Lutnick said his firm would top CME's previously announced deal for the brokerage. Gooch has supported CME's offer, which allows him to take part of the company private. The firms compete in the shrinking market to broker large transactions between banks.
GFI shareholders are scheduled to vote on CME's offer on Jan. 27.
Before it's here, it's on the Bloomberg Terminal.
LEARN MORE