Wisconsin's Walker Sticks to State Matters Amid White House Talk
Tim Jones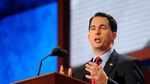 Juggling presidential ambitions with the need to balance Wisconsin's budget, Republican Governor Scott Walker called for a smaller government by consolidating agencies and pledged to eliminate a projected deficit that could top $2 billion.
In his State of the State message Tuesday evening kicking off his second term, the 47-year-old Walker promoted broad themes of economic freedom and emphasized the need to be "better stewards of the taxpayers' dollars." As he draws national attention ahead of a possible 2016 presidential run, the governor largely stuck to issues within Wisconsin's borders.
Walker didn't provide specifics as to how he would balance the state's budget, and unlike previous annual speeches, there was no call for major tax cuts.
"Government has grown too big and too intrusive in our lives, and must be reined in, but the government that is left must work," Walker told a joint session of the legislature in Madison, the capital.
"We should demand that the functions that government must reasonably do, it should do well," Walker said as he proposed merging agencies that govern economic development, housing and financial institutions. Details of these and other proposals will be spelled out in his Feb. 3 budget presentation.
New Timidity
During his first term, Walker signed into law more than $2 billion in tax cuts, including a $541 million reduction he proposed in last year's State of the State message. Revenue shortages have quieted talk for further large-scale reductions. The state faces a projected budget deficit of as much as $2.2 billion in the two-year period starting in July, according to his administration's analysts.
The state reported a $517 million surplus at the end of last June.
Walker is taking steps toward a possible White House run in 2016. He's hired Republican consultant Rick Wiley, who advised former New York Mayor Rudy Giuliani in his 2008 bid. He'll attend a party gathering in Des Moines, Iowa, next week, along with other presidential hopefuls.
The field narrowed this week when Wisconsin U.S. Representative Paul Ryan, the party's 2012 vice presidential nominee, withdrew his name from consideration Jan. 12.
First-Term Tumult
Walker won re-election to a second four-year term last month, defeating Democratic businesswoman Mary Burke on Nov. 4.
Walker thrust himself into national prominence four years ago, when he used Republican legislative majorities to restrict collective bargaining for most public employees. After weeks of union-organized protests led to recall campaigns, he became the first governor in U.S. history to survive an ouster vote in 2012, fueling talk of a presidential run.
The potential Republican White House field is crowded with current and former governors. Besides Walker, New Jersey's Chris Christie, Louisiana's Bobby Jindal, Indiana's Mike Pence and Ohio's John Kasich have been mentioned as possible candidates. Ex-state chief executives Jeb Bush of Florida and Texas's Rick Perry may run.