Why Nobody Knows How Great Trans-Pacific Deal Is: Opening Line
Laurence Arnold and C. Thompson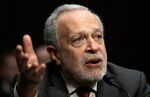 Heard much lately about the Trans-Pacific Partnership? You're not alone.
Making nice after the Nov. 4 election, ascendant Republicans and the downtrodden Democrat in the White House cited trade as one area where gridlock could give way to action.
Indeed, President Obama and Senate Majority Leader Mitch McConnell find themselves on the same side of the debate over the proposed free-trade deal with 11 nations that, according to the White House, would "unlock opportunities for American workers, families, businesses, farmers, and ranchers by providing increased access to some of the fastest growing markets in the world."
An unlikely coalition, ranging from labor groups to the Tea Party, has assembled to oppose giving Obama so-called fast-track authority to sign the trade deal. On the other side, Reuters reports U.S. Chamber of Commerce President Thomas Donahue will deliver a speech today naming fast-track authority a priority for the organization.
Still more remarkable is the potential scope of the deal and how little we're all paying attention to it.
The anti-secrecy group WikiLeaks has alleged that "few people, even within the negotiating countries' governments, have access to the full text of the draft agreement, and the public, who it will affect most, none at all," while "large corporations" can "see portions of the text."
Robert Reich, who was Labor secretary under President Bill Clinton, also complained about secrecy, writing last week that the deal has been "drafted mostly by corporate and Wall Street lobbyists" looking after their own interests.
Noting the traditional arguments surrounding free trade versus protectionism, Reich says that as parties to the agreement, "big corporations and Wall Street want some of both.
They want ''more international protection when it comes to their intellectual property and other assets,'' yet also seek ''less protection of consumers, workers, small investors, and the environment, because they interfere with their profits.''
They also want to add an estimated $78 billion to corporate revenues annually, Danielle Kurtzleben writes at Vox.com, citing a study at the Peterson Institute for International Economics.
We'd like not to have to take Reich's word for it, but what's being done in our name is being done mostly behind closed doors.
''While it's true that the average American (or Japanese or Vietnamese person) has no access to the talks, the secrecy surrounding TPP has a purpose," Kurtzleben writes. "Negotiations would be far, far more difficult if undertaken in full public view."
Well, yes, lots of things would be easier if done outside public view.
***
U.S. economic indicators today include retail sales and import prices at 8:30 a.m. EST, business inventories at 10 a.m., and the Fed's Beige Book at 2 p.m.
U.S. earnings include JPMorgan Chase and Wells Fargo before the market opens. HB Fuller is scheduled to report after the bell.
Domino's Pizza will hold an investor day starting at 12:30 p.m. EST.
***
- Giorgio Napolitano resigns as Italy's president. - Obama travels to Iowa to promote wider access to affordable high-speed Internet. - Kerry's in Geneva to meet Mohammad Zarif, Iran's Foreign Minister, ahead of the resumption of nuclear talks. - John Podesta is joining Hillary Clinton's nascent campaign team, the Wall Street Journal reports. - RBC Capital Markets holds its Canadian Bank CEO Conference starting at 8:30 a.m. in Toronto. - Philly Fed President Charles Plosser is scheduled to give an outlook for the U.S. economy in Philadelphia at 9 a.m. - The House is set to vote this afternoon on a measure changing Dodd-Frank, including delaying the Volcker rule. - The House also may vote on a Homeland Security bill that seeks to block Obama's moves on immigration. - Tensions rising in Ukraine again after 12 are killed when passenger bus is shelled. - North Korea could have 20 nuclear weapons by the time a new president takes office. - Libyan factions meet in Geneva today to try mediation. - I.S. video purports to show not-yet-teenage boy executing two men. - Aurora, Colorado, jury pool for James Holmes trial is 9,000 people. - Pakistan welcomes Kerry with the hanging of seven prisoners. - Boehner's bartender back home in Ohio entertained thoughts of poisoning him. - U.S. advocacy group says human-rights violations increasing in China. - Xi to make state visit to U.K. this year. - Thatcher aide's Hong Kong performance review: met expectations. - Kim Jong Un accepts Putin's invitation for a visit in May, Yonhap reports. - De Blasio would veto a proposal to outlaw police use of chokeholds. - Silk Road creator admits to being Silk Road creator. - Some move in 500.com shares yesterday. - Cast of the "The Big Short" said to included Brad Pitt, Ryan Gosling and Christian Bale, three men too pretty for a story that ugly. - Todd Bowles returns to New York Jets as head coach. - Just how do people fall off cruise ships, anyway?
***
As you may have heard, inflation, and specifically wage inflation, is becoming an increasingly integral part of the equation in assessing the health of the U.S. economy, especially after last week's nonfarm payrolls report showed another big month for hiring in terms of total jobs but failed to come anywhere near the estimates for wage inflation.
A large part of the observations about job growth and wage growth has been that the rising employment figures were concentrated in lower-paying jobs, that "the U.S. is turning into a nation of fast-food workers," as Carlos Torres puts it.
Well, Torres has news for you: Fully two-thirds of the jobs created in 2014 came in industries that pay workers above-average wages. Business services, goods-makers, health/education -- from accountants and computer programmers to construction and factory jobs to nurses, etc. -- were represented in his study of U.S. Labor Department data.
"The pickup indicates the high-flying jobs that were hit hardest during the worst recession in the post-World War II era are making a comeback as the economic expansion gathers momentum," Torres reports.
Good for them, but there's an economic argument for bumping the pay of those low-wage jobs while we're at it. Back to the Peterson Institute, where they came out with a study yesterday showing the increase in productivity that results from paying employees more. They find that higher wages lead to:
- attracting more capable and productive workers
- lower turnover, reducing costs for hiring and training
- better quality and customer service
- reductions in disciplinary problems, absenteeism and employee monitoring
- better employee health
- and more
A sidebar to the study shows who would benefit and by how much under scenarios that increase wages to $12 an hour and to $16 an hour.
You gotta spend money to make money, it appears.
***
A week after the Charlie Hebdo attacks, there are cracks in the facade world leaders presented in their parade last Sunday. When we spoke with Nicholas Dungan of the Atlantic Council on the day of the attack, he expressed faith in the French to rise above the instinct to meet hatred with more hatred.
"In a bizarre sense, this incident has made it less probable that these people will be able to fuel anti-Islamic extremism, such as from the National Front, because the dignity and sympathy and humanism of the reaction of the French," Dungan said.
Within France, it may be too soon, although by the size of the press run for today's return of Charlie Hebdo, their stance remains clearly defiant. The FT reports publication has been increased to 5 million from 3 million, which has been increased from 1 million, compared with usual 50,000.
Outside of France, there are some early returns. Today's cover, depicting a version of Muhammad with a tear in his eye has drawn the usual condemnation from the usual condemners, and today al-Qaeda in Yemen claimed responsibility for the attack on the magazine.
In Turkey:  "The culprits are clear: French citizens undertook this massacre and Muslims were blamed for it."
That was Recep Tayyip Erdogan, a remark, the FT notes, that came "barely" 24 hours after his successor as prime minister, Ahmet Davutoglu, had marched in Paris with two score or more or the world's leaders.
In Russia, the U.S. was blamed for staging the attack as retribution against French President Francois Hollande for suggesting the world ease up on the sanctions.
In Holland, the mayor of Rotterdam is making headlines for his swing in the opposite direction, lashing out at Muslims (warning: in colorful language) who latch onto extremism and refuse to assimilate. This is only slightly enhanced by the fact that his name is Ahmed Aboutaleb, a Muslim and native of Morocco.
Anonymous, the hacker collective, has waded in by declaring war on al-Qaeda, Islamic State and Islamic extremism.
"We will track you down -- every last one -- and will kill you," the U.K.'s Mirror newspaper quotes the masked spokesman from the hacker group's Belgian wing as saying (in French) in a YouTube video. "You will not impose your sharia law in our democracies, we will not let your stupidity kill our liberties and our freedom of expression. We have warned you; expect your destruction."
Not exactly the Kumbaya moment Dungan was hoping for, but if it's the Middle Ages these groups want, maybe Anonymous will help them get there.
***
While everyone's attention has been focused on the price of crude oil, another commodity has been hitting the skids.
New York copper crashed through long-term support at around $2.72 a pound yesterday. Our go-to technical analyst on staff, Bill Maloney, showed us that chart revealed copper breaking out of a descending triangle pattern.
Some of it has to do with the price of oil, Bloomberg's Joe Deaux and Agnieszka de Sousa report. Cheaper oil leads to cheaper mining and production costs. Why copper producers want to be like coffee farmers and over-supply a market is beyond us, but if it's cheaper to make, perhaps the margin will justify the production by the time it gets sold.
The notion of cheaper production includes the concept that it's cheaper to produce right now, which played into the narrative at Zero Hedge, where they wrote yesterday that times of stimulus foreshorten economic analysis into more short-term viewpoints. This leads to more opinions that price moves are unexpected, because it's assumed accommodative monetary policy always works and disregards indications that stimulus doesn't always support demand.
Fact is, they wrote, that if copper supposedly has "a Ph.D. in economics," its role as a bell cow, maybe right now, for future economic activity may be getting lost in more simplistic explanations of over-supply and "unexpected" price moves.
"In a physical world where supply and demand have to clear at some price, it is not really surprising that a slow attrition in economic activity would show up as a much more durable and extended slide in not just copper, but almost every economically-sensitive commodity," Zero Hedge writes. "Since that trend includes the beginning and end of QE 3 & 4, as well as innumerable 'stimulus' programs in Japan, Europe, China and elsewhere, with nary a durable upward impression, it speaks very ill of the impact of monetarism on actual 'demand,' even if it were 'over-supply.'''
That was yesterday. Kana Nishizawa reports copper has fallen as much as 8.7 percent today in London, its biggest decline in almost six years, and finds more people talking about demand. So where does copper stop its drop? Since the gang at Seeking Alpha is asking, "Is copper the next oil?," let's ask the oil pits.
***
One of those pipe-dreams we've always harbored is pulling up a chair at an outdoor cafe in the foothills of Nepal's Himalayan mountains with a cup of the insane coffee they have over there and a little taste of hash to go with it. Corned-beef hash, we mean. What?
We'd pull out a leather-bound journal and, with the effects of the hash and the coffee washing over us, gaze up at the glaciers and snowcapped mountains and contemplate Earth and all its mysteries, perhaps disappearing there permanently.
After reading Natalie Obiko Pearson's installment in today's Cities column, it became apparent that trip had better happen soon.
The glaciers' ice reserves have dwindled by about a third since 1977, she writes. The monsoons that once were reliable no longer are. River levels rising and falling abnormally from the changing climate have thrust cities into darkness as power becomes unreliable. The threat to supplies of drinking water that originates from ice melt, because there's less ice to melt, is being felt from Iran to Southeast Asia.
"By 2050, Himalayan glaciers are projected to recede so much that declining water could threaten the ability to feed 70 million people, according to the United Nations Environment Program," Pearson writes.
And as the poorest nation in Asia after Afghanistan, there's almost nothing they can do about it.
***
'Seattle' By Woody Allen Amazon Studios Episode 1, Scene 1
[OPENING MONTAGE OF PAMELA BECKER, CASUALLY ELEGANT STARBUCKS EXECUTIVE, STROLLING PAST SEATTLE'S PIKE PLACE MARKET, THE SPACE NEEDLE, PIONEER SQUARE. SHE STOPS TO SIT ON A BENCH OVERLOOKING ELLIOT BAY AND SIP FROM HER PAPER CUP. AFTER SEVERAL MOMENTS, SHE IS JOINED ON THE BENCH BY ALLEN WOODSTEIN, A SHORT YOUNG MAN IN SKINNY JEANS, UNTUCKED SHIRT AND SKINNY TIE. TATTOOS PEAK OUT FROM BELOW HIS ROLLED-UP SLEEVES AND A STUD GLINTS IN HIS NOSE. HIS UNKEMPT, REDDISH-BROWN HAIR, SUNKEN CHEEKS AND SAD EYES, DARTING BEHIND BLACK HORNED-RIM GLASSES, MAKE HIM LOOK OLDER THAN HIS AGE, A MAN-BOY ALREADY WEARY OF LIFE'S BURDENS. HE, TOO, TOTES A LIDDED PAPER CUP.]
PAMELA: I thought you had the morning shift today.
ALLEN: I did. I mean, I do. I'm working now. That is, I asked to take a break because I knew you come here around this time. What are you drinking?
PAMELA: Iced sugar-free vanilla latte with soy milk. Grande. You?
ALLEN: Just coffee. Regular coffee. Hot, you know. Little half 'n half, so I guess it's not what you'd call black coffee, but almost.
PAMELA: Allen, at some point you're going to have to experiment a little. You're a barista. Aren't you curious about all the drinks people order? How they taste?
ALLEN: I dunno. It just seems so pointless. Like life itself! If you start experimenting with the menu, how do you know what you really like? Look at it this way: Say you order a different drink every day for however many days the whole menu takes. What do you order on the day after you finish? [TAKES A SIP, LOOKS TO THE BAY.] That day would be a nightmare.
PAMELA: So you're just going to drink regular coffee your whole life? Don't you have dreams?
ALLEN: I think you know my dream.
PAMELA: [LOOKING AWAY.] Allen, we've been through this. I'm turning 50 next year, and you hardly know me. You're barely two years out of NYU. Your car still has New York plates. Not to mention that I'm like your boss's boss's boss's boss. That one kiss was lovely, but it was a mistake. You've got to move on.
ALLEN: Pamela, look at me. [THEIR EYES MEET.] Did the Seahawks give up after Steve Largent retired? No, and look where they are 25 years later. Did Microsoft give up when Steve Ballmer became CEO? OK, maybe that's not a good example. But Pamela, I do have a dream. And you're sitting right here. And I know it might be the coffee, but I'm getting sweaty just sitting near you. Or wait -- is that rain? How could it be raining when it was sunny like 30 seconds ago? This city is crazy. All the seafood in the world and I can't find some decent salty lox? Who lives like this?
[AFTER SEVERAL EXPRESSIONLESS SECONDS, PAMELA GIVES ALLEN A SEDUCTIVE SMILE. CUT TO SLOW PAN UP THE SPACE NEEDLE.]
[END SCENE 1]
(An earlier version of this story was corrected to remove reference to New York Governor Andrew Cuomo offering his budget and state-of-the-state address, which will happen on Jan. 21.)
Before it's here, it's on the Bloomberg Terminal.
LEARN MORE