What Jeb Bush Wrought
The Republican's moves set off a wild scramble inside a party hungry for the White House—and increasingly confident that Hillary Clinton is vulnerable.
By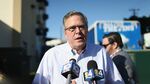 Jeb Bush didn't clear the field. He set the rest of the political world loose on it.
New Jersey Governor Chris Christie is preparing to launch a national PAC, a move that was publicized just hours after he delivered a State of the State speech that sounded more like a warmup for a State of the Union address.
Kentucky Senator Rand Paul, eager to demonstrate that he's tough enough to take on Hillary Clinton, announced a campaign team that includes Chris LaCivita, a strategist best known for the 2004 swift-boating of John Kerry. He also tweeted Wednesday from primary-land in New Hampshire and dumped on potential rivals in an interview with Politico.
And Mitt Romney, who has run in the past two presidential elections, has called more than a dozen high-end Republican officials to let them know he's not planning to yield the field to Bush or anyone else.
"Boy, it's getting crowded out there," Joe Scarborough said Wednesday on MSNBC's Morning Joe.
Since Bush kick-started the race last month by announcing plans to form a PAC and super-PAC, it has become a wild scramble, particularly within a Republican Party that is both hungry to recapture the White House and increasingly confident that Clinton is vulnerable.
"The race is a marathon, but it started after the new year," said Representative Jason Chaffetz, a Utah Republican. "There will be a lot of back and forth, but the one who is vetted, can raise the billion dollars that it's going to take to beat Hillary, and who is right on the issues is going to be the nominee and then the president of the United States."
Chaffetz said he thinks—and hopes—that will be Romney.
The unfreezing of the field is a double-edged sword for Republicans, said Ben LaBolt, a veteran of President Barack Obama and Chicago Mayor Rahm Emanuel's political operations.
"A contentious Republican primary could serve as a testing ground for the nominee, but in the meantime, it'll provide a platform for each candidate to expose the warts of the other," LaBolt said. "No one is winning general electorate voters right now, so if the scrutiny is on the Republicans, that's good for Democrats, who have historically fallen into internecine warfare far too often."
This time around, the darling of the left, Massachusetts Senator Elizabeth Warren, is making clear that she won't stand in Clinton's way. Asked by Fortune in an interview published this week whether she would run for president, Warren flatly declared, "No."
Meanwhile, Clinton's core campaign operation has begun taking shape. 
Clinton campaign-manager-in-waiting Robby Mook has met with enough prospective staffers in recent weeks that their names are starting to spill into print. Ad man Jim Margolis was added to the list yesterday, and Democratic operatives said they expect pollster John Anzalone to join fellow pollster Joel Benenson in signing on with Clinton. Anzalone did not return a call seeking comment.
Mook has also met with potential digital directors, according to a former Clinton aide.
After losing to a tech-savvy Obama team in 2008, Clinton built a robust digital squad at the State Department. Her top tech adviser, Alec Ross, was a veteran of the Obama campaign. And she was well aware, allies have said, that her use of technology in diplomacy could be applied to her domestic political aspirations.
While several Republicans are plowing ahead, some prospective candidates are moving a little bit slower. There's a natural timing tension for sitting governors, such as Wisconsin's Scott Walker, Indiana's Mike Pence, and Louisiana's Bobby Jindal, that has already caused trouble for Christie.
Unlike Bush and Romney, former governors who don't have to worry about pleasing constituents, and Senators Paul, Ted Cruz and Marco Rubio, who have plenty of breaks in the legislative calendar, incumbent governors risk looking like they're ignoring their day job if they spend too much time raising money and courting votes away from home.
Republican pollster and strategist Kellyanne Conway said Bush has had an impressive rollout but that there could also be a benefit to candidates who "hang back" and become a "fresh face" in a few months.
"The grassroots will demand a conversation about big ideas, not big money," she said.
Angela Rye, a Democratic strategist, said the scramble is "a sign that there's no frontrunner in the GOP field."
She doesn't envy the person who has to try to build a winning coalition. "With all the factions in the GOP, the ability to unite their base is a special job for a special person," she said.