Tesco Receives Second Junk Blow as S&P Lowers Credit Rating
Paul Jarvis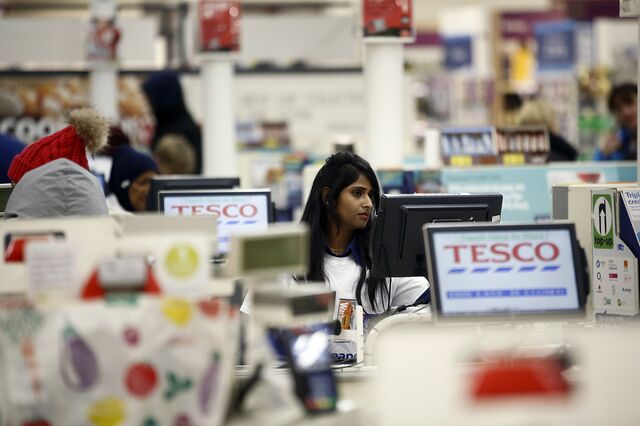 Tesco Plc was dealt a new blow as Standard & Poor's joined Moody's Investors Service in cutting debt at the U.K.'s biggest grocer to below investment grade.
The senior long-term credit rating was reduced to BB+ from BBB-, the lowest investment-grade level, S&P said today in a statement. The outlook is stable, indicating the rating is unlikely to be changed again soon.
Measures announced last week by Chief Executive Officer Dave Lewis to revive the struggling retailer "do not go far enough to support an investment-grade rating," Raam Ratnam, a London-based analyst at S&P, said in the statement. The moves included shutting 43 stores, moving the grocer's head office and ending its pension program, along with the sale of the Blinkbox movie-streaming unit, price cuts and 250 million pounds ($379 million) of cost savings.
"Given the structural changes and competitive pressures that Tesco is facing in the U.K. market, the credit-supportive financial policy measures announced by Tesco's management are unlikely to sufficiently improve the group's financial risk profile to maintain an investment-grade rating," Ratnam said.
Moody's last week became the first credit-reporting service to cut Tesco debt to junk, saying Lewis's actions will take time to implement. The lowered ratings will probably add to the grocer's borrowing costs and increase pressure on Lewis to raise capital quickly, either by divesting businesses or selling new shares.
Turnaround Efforts
"The downgrades are a reality check for Tesco," said Saida Eggerstedt, a money manager at Deka Investment GmbH in Frankfurt, who helps oversee about 29 billion euros ($34 billion) of corporate bonds including Tesco's. "Investment-grade managers have already sold the bonds. An equity raising was probably needed to keep the rating."
Lewis said last week that there was no need for a fire sale of assets, describing Tesco's funding and liquidity as "really robust" after the Cheshunt, England-based company secured a 5 billion-pound revolving credit line last year.
Prior to the Jan. 8 decision by Moody's, Tesco Chief Financial Officer Alan Stewart met with credit-rating providers in an effort to persuade them to keep their investment-grade ratings.
Tesco has had one of its toughest years, issuing three profit warnings since June as the loss of shoppers to discounters Aldi and Lidl was compounded by the discovery of an accounting black hole.
Lewis is reviewing all aspects of the business, with analysts speculating Tesco may sell operations in countries such as Thailand or South Korea. The company said last week that it appointed Goldman Sachs Group Inc. to "explore strategic options" for the Dunnhumby data-analytics unit that include a sale and an initial public offering.
The potential disposal, combined with the cancellation of the dividend and reduced capital spending, should enable Tesco to improve its cash position by more than 3 billion pounds in the financial year through February 2016, S&P estimated.
Before it's here, it's on the Bloomberg Terminal.
LEARN MORE