Rand Paul Would Be 'Happy to Dissolve' the United Nations
What the senator says when the reporters are away.
By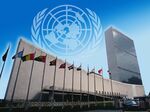 CONCORD, N.H. — It had been billed as a "Second Amendment Supporter Event," a gathering at the Londonderry Fish and Game Club not far south of Manchester. It had also been billed as "open press." Yet shortly after noon, as more than 20 reporters filed into a metal-lined lodge, they were told that the Q&A session between Kentucky Senator Rand Paul and gun owners would be closed press.
The press largely went along with this. After club president Rick Olson gave him a tour of the lodge and introductions to most of the members who'd shown up, Olson shepherded Paul to a stage and asked reporters to leave.
"We have to take care of some executive club business," said Olson. "For the moment, what I'm going to do is call the media to a close. Sorry, guys. We gotta take care of some executive club business. It'll take about 15-20 minutes."
The decision, Olson said, was his — not Paul's. The reporters (and two trackers) previously identified by organizers filed out. Scott Conroy of RealClearPolitics, who was stuck in a crowd and didn't hear the order, didn't leave. Instead of waiting in the snow-blanketed parking lot, Conroy heard Paul give remarks that, as far as he knew, the press wasn't hearing. For example, he delivered a crowd-friendly endorsement of dismantling the United Nations. 
"I dislike paying for something that two-bit Third World countries with no freedom attack us and complain about the United States," Paul said. "There's a lot of reasons why I don't like the U.N., and I think I'd be happy to dissolve it."
Anti-U.N. sentiment was familiar to gun owners and to Paul. As a senator, he's often lent his name to fundraising e-mails for the National Association for Gun Rights, a group whose merchandise was available for free at Tuesday's rally. "Watching anti-American globalists plot against our Constitution makes me sick," wrote Paul in a December 2012 e-mail for NAGR. This wasn't a new Paul position; it just wasn't what he led with when foreign policy came up.
Oh, and it was popular. Not since January 2003, before the start of the Iraq War, has a majority of Americans said the U.N. was going a "good job" in its stated mission. For years, Paul's possible 2016 rival Mike Huckabee has mocked the U.N. as "the international equivalent of ACORN" and a joke that needed to "float into the East River."
Also, within a couple of hours of talking to gun owners, Paul was talking to a room studded with reporters and happily talking about slaughtering one of the eastern establishment's cows. At Manchester's Founders Academy, a charter school, Paul told a room of parents that he wanted to "abolish the Department of Education." It got massive applause.
Correction: This post was updated to restore the first paragraph.