Rand Paul Would Be 'Happy to Dissolve' the United Nations
What the senator says when the reporters are away.
By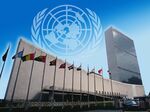 CONCORD, N.H. — It had been billed as a "Second Amendment Supporter Event," a gathering at the Londonderry Fish and Game Club not far south of Manchester. It had also been billed as "open press." Yet shortly after noon, as more than 20 reporters filed into a metal-lined lodge, they were told that the Q&A session between Kentucky Senator Rand Paul and gun owners would be closed press.