Rajoy Rallies to Defense of EU Austerity With Athens Trip
Esteban Duarte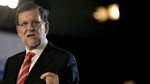 Spain's Prime Minister Mariano Rajoy is rallying to the support of Greece's Antonis Samaras, who's facing an election defeat that could complicate life for establishment parties across Europe.
Samaras's New Democracy is trailing the anti-austerity party Syriza by 3 percentage points less than two weeks before the country's general election. A victory for Syriza could help consolidate support for parties such as Podemos in Spain and Sinn Fein in Ireland that also reject the European Union's focus on budget cutting to tackle the economic crisis.
"I am here to support a set of policies that have been hard, difficult, and complicated," Rajoy said at a joint press conference with Samaras in Athens today. "Those policies were necessary, indispensable, and have borne fruit. More importantly, they lay a solid foundation for the future."
Greece's Jan. 25 elections are becoming a test case for governments that agreed to implement the EU's German-inspired recipe of budget cuts and measures to free up economic activity in the face of opposition from their voters.
Podemos Leads
Polls in Spain, the fourth-largest economy in the euro region, give Podemos a 9 percentage-point lead over Rajoy's People's Party, which has dropped to third place with just 19 percent support. Rajoy faces his own general election around the end of this year.
"The meeting between Rajoy and Samaras is part of the plan of the real prime minister: Merkel," Inigo Errejon, a member of Podemos's executive committee, said on La Sexta television channel, referring to German Chancellor Angela Merkel.
Podemos and Syriza are gaining support after promising to increase public spending, while imposing losses on the holders of more than 1.3 trillion euros ($1.5 trillion) of debt issued by their governments. Spain can ill afford to revive the concerns that deterred investors in 2012 as it needs to issue 239.4 billion euros of debt this year to repay bonds that are maturing and finance the budget deficit.
"A Syriza government is bad in any case for Rajoy: if it goes well it will signal that Podemos is perhaps not as bad as they claim," said Antonio Roldan, a London-based political analyst at Eurasia Group. "If it goes badly it could destabilize bond markets in the southern periphery."
While Rajoy is going to Athens, the leader of Spain's main parliamentary opposition, Pedro Sanchez, is pitching his Socialist party as a "safe" alternative to Podemos on a visit to Washington this week. Sanchez will meet International Monetary Fund Managing Director Christine Lagarde and Jason Furman, chairman of the White House's Council of Economic Advisers. Sanchez will also set out a proposal for easing the terms of Greece's bailout loans.
Greek Writedown
Syriza leader Alexis Tsipras has said he'll ask Greece's official creditors to write down the country's debts if he wins the election. Investors' concerns about a Syriza victory drove yields on Greece's 10-year government securities above 10 percent for the first time in more than a year last week.
Greece's public debt is about 320 billion euros, or 174 percent of its gross domestic product. Euro members and the IMF pledged 240 billion euros of loans to fund the Greek bailout.
"It's not possible for negotiations on the all the issues to start again right from the beginning, and all Europe's rules to change, each time a new government is elected," Samaras said at today's briefing. "We're now in the final negotiation for an agreement on the post-bailout era."
Before it's here, it's on the Bloomberg Terminal.
LEARN MORE