Italian Ex-Premiers, Central Bankers in Play as President
Lorenzo Totaro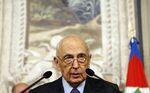 If Italy's presidential electors stick to past form in choosing the country's next head of state, they will pick from a pool of former prime ministers, current or former central bankers and parliamentary speakers.
Even before today's resignation of Giorgio Napolitano, the country's 11th president, pundits were discussing possible successors for the 89-year-old head of state, with former prime ministers such as Romano Prodi, Massimo D'Alema, Giuliano Amato and Mario Monti as the leading contenders for the seven-year post.
Three of the country's most recent premiers are out of the running for the mostly ceremonial post: Silvio Berlusconi can't be elected president due to a tax fraud conviction. Current premier Matteo Renzi, who turned 40 this month, and his predecessor Enrico Letta, 48, are both too young for the job, since the minimum age requirement is 50. European Central Bank President Mario Draghi ruled himself out of the job again today.
Past presidents included central bankers like the late Luigi Einaudi, who led the Bank of Italy for the three years after World War II before becoming head of state in 1948. Carlo Azeglio Ciampi, 94, who's still on the presidential college as a lifetime Senator, became president in 1999 after holding a number of key jobs including the premiership and Finance Minister. He also ran the central bank for almost 14 years.
Draghi, Visco
Those precedents have led to speculation that current Central Bank Governor Ignazio Visco and his predecessor, Draghi, could be candidates to replace Napolitano.
Asked about the job, Draghi told German newspaper Handelsblatt in an interview published Jan. 2 that his ECB mandate lasts until 2019. "I don't want to be a politician," he said at the time.
Draghi's message was "clear enough," said Marco Valli, an economist at UniCredit SpA in Milan. "Still, let's say he could have said he wasn't interested in an even more explicit way."
Draghi could see the presidency as a way to make a more substantial contribution to euro-zone stability than continuing in an increasingly controversial term as ECB president, Stephen Lewis of London-based ADM Investor Services said in a Jan. 8 client note. A Jan. 22-23 meeting in Florence between Renzi and German Chancellor Angela Merkel could include a political deal to smooth Draghi's transition to the presidency, Lewis said.
That prospect appeared to be quashed by Draghi in an interview released today with Die Zeit newspaper.
"It's a great honor to be considered, but it's not my job," he was cited as saying. "What's important is the job I'm currently doing. I'm glad to be able to practice it and I will continue to practice it."
Caretaker President
Another group of potential candidates includes current and former parliament speakers. That's a post Napolitano held during a political career that spanned more than six decades.
Ex-speakers who've been discussed as possible future presidents include current Senate Speaker Pietro Grasso, who'll act as caretaker head of state until a new president is elected, and his counterpart in the Chamber of Deputies Laura Boldrini, who's in charge of organizing the presidential election, which will take place in the lower house.
Wild-card candidates include current Finance Minister Pier Carlo Padoan, who's also a former chief economist at the Organization for Economic Cooperation and Development, and his predecessor Fabrizio Saccomanni, who's also an ex-director general at the Bank of Italy. Saccomanni was among the last officials to meet with Napolitano before his resignation.
Two unsuccessful prime ministerial candidates, Walter Veltroni and Pier Luigi Bersani, both of whom headed the Democratic Party before Renzi took over as party leader, have also been named as possible candidates. Veltroni ran for prime minister in 2008 and Bersani in 2013.
Before it's here, it's on the Bloomberg Terminal.
LEARN MORE