How Chipotle Got Religion on Sustainable Pork
Picking the right pigs became a key part of the burrito chain's identity
By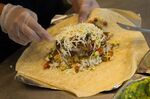 Carnitas is temporarily off the menu at about one-third of Chipotle Mexican Grill's restaurants, a decision made on Wednesday after the company discovered that an unnamed supplier had violated its animal welfare policies. Pork, which accounts for about 7 percent of entrée sales, isn't just another meat option at Chipotle. The burrito chain's identity as a purveyor of responsible food is linked to the way it sources its pigs, which helps explain why executives would rather ditch one of four proteins on the menu than temporarily switch to a conventional meat supplier.
Chipotle's identity as a sustainable chain dates to 1999, six years after the first location opened in Denver. Steve Ells, the company's founder, went looking for alternatives after touring farms that kept the pigs confined, a common practice. He read an article about a farming cooperative called Niman Ranch that raised "free-range" pigs and went to check it out. "I remember distinctly a bunch of young piglets running by him in the field," Paul Willis, the head of Niman Ranch's hog operation, said in a recent interview. "I felt like he was really moved by the experience."
The switch to Niman pork became instructive for Chipotle. The company claims carnitas sales more than doubled after ditching conventionally raised pork, even though the menu price increased $1. Since 2001, the company says, all its pork has been sourced sustainably. 
Chipotle started out buying just a few hundred pounds of pork per week from Niman. With new demand and new Chipotle locations, Willis had to add more farmers with similar animal welfare practices to the cooperative's supply chain. Even back in the early days, when supplies ran low Chipotle handled the issue by preparing to take carnitas off the menu. "We were growing pretty fast, but Chipotle was kind of growing at the speed of light," recalls Bill Niman, founder of Niman Ranch. "We got to the point where we could not continue to meet the supply. There was a time when Steve said, 'We're just going to take pork off the menu.' Basically, our farmers could not keep up in the summer months." (It never came to that.) 
Pork in particular has proven to be a tricky meat for Chipotle. When naturally raised beef supplies run short, by contrast, the chain offers conventionally raised beef instead. The difference is that with standard steak, "the treatment of the animals is not so egregious," Chipotle spokesman Chris Arnold wrote in an e-mail. "With pigs, the differences are simply too stark and get to very real animal welfare issues, and that is an area where we simply won't compromise." Arnold cited chronic problems in conventional pig farming, including gestation crates and overuse of antibiotics. These sorts of issues with large-scale farming operations have even become fodder for Chipotle's advertising. 
Chipotle has been vocal about its mission to change the way people eat, and such competitors as McDonald's have responded by trying to develop their own sustainability standards. The carnitas shortage caused by a standards issue with a supplier shows just why this commitment to elevated ingredients can be such a vexing challenge for fast-food giants: A time without pork might be a little bumpy for Chipotle—shares dropped just slightly on Wednesday—but McDonald's can't go a day without hamburgers.
Before it's here, it's on the Bloomberg Terminal.
LEARN MORE