Hollywood Deals Stop as David Fights Goliath: Real Estate
John Gittelsohn and Nadja Brandt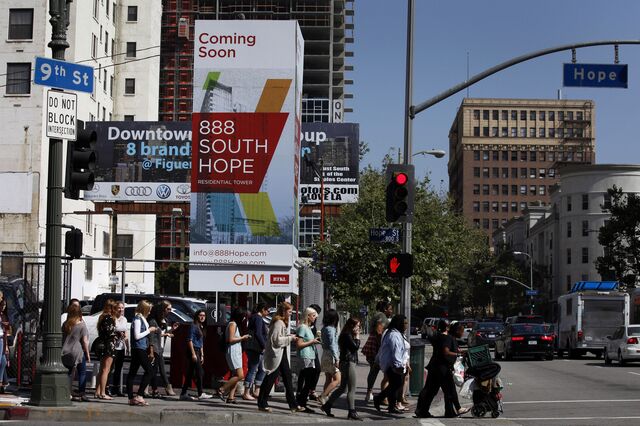 Target Corp. stopped construction of a new store. Real estate investor CIM Group was ordered to suspend leasing at a 301-unit apartment tower. And Millennium Partners' $664 million high-rise complex may never get off the ground.
All three projects, located in the Hollywood area of Los Angeles, were held up by Robert P. Silverstein, who has emerged as the go-to attorney for community groups seeking to slow growth in the second-largest U.S. metropolis.
"I use the David-versus-Goliath metaphor a lot, but it's generally true," Silverstein, 46, said in an interview. "It's not an easy thing to fight government or big developers."
Community-based efforts to control development have increased in response to a Los Angeles construction revival. The disputes are driving up project costs in a real estate market that's already expensive, making it harder to add retail space and homes in the country's least-affordable city for housing.
Silverstein uses the California Environmental Quality Act, or CEQA, along with open-meeting laws and public-record requests to find flaws in proposed projects, forcing developers to alter their plans or face costly delays and litigation. Development proponents argue that laws are being misused on behalf of well-heeled, not-in-my-backyard activists willing to sacrifice economic growth to protect their lifestyles and property values.
"The people who are most apt to fight things have six-figure incomes and nice houses and college and post-college degrees," Mike Saint, a Nashville, Tennessee-based land-use consultant and co-author of the 2009 book "NIMBY Wars: The Politics of Land Use," said in a telephone interview. "You can't convince them to support a shopping center across the street from their house just because it's going to create jobs and tax revenue."
Bake Sales
Community groups usually cover Silverstein's initial fees with money raised at bake sales and benefit dinners. His biggest payouts come after prevailing in lawsuits, which entitle him to cost reimbursements from adversaries under what are called "private attorney general" actions deemed to have a public benefit, he said. In June, the Los Angeles City Council agreed to award Silverstein $780,000 as part of $1.75 million in fees to attorneys who sued to block the Hollywood Community Plan, according to Rob Wilcox, a spokesman for the city attorney.
"Lawyers like Silverstein are really a symptom of the problem," said Chris Thornberg, principal at Beacon Economics LLC, a Los Angeles-based research and consulting firm. "He's just responding to the fact that the NIMBYs have been given these weapons."
Silverstein Honored
The Federation of Hillside and Canyon Associations, a coalition of 44 Los Angeles-area community groups stretching from the mansions of Bel Air to gentrifying Echo Park, honored Silverstein at a Dec. 11 evening banquet at the Mulholland Tennis Club. The groups turn to Silverstein because it's the only way to get the city to pay attention or abide by the rules, said Marian Dodge, the federation's president.
"It's unfortunate we have planning by litigation," she said. "They'll put in everything they can because they know the average Joe can't afford to litigate. And most of the time they get away with it."
Except when Silverstein is on the case. In October, Los Angeles Superior Court Judge James Chalfant ordered the city to revoke the certificate of occupancy and other permits for the 23-story Sunset and Gordon on Sunset Boulevard in Hollywood after Silverstein argued the apartment-tower developer had destroyed the facade of a historic building it agreed to preserve.
Ruling Appealed
The ruling has been appealed, staying the judge's order, according to Luke Zamperini, a spokesman for the Los Angeles Department of Building and Safety. Apartments are still being leased and are currently available at prices ranging from $1,790 for studios to $7,900 for a penthouse, according to the project website.
"The city is playing fast and loose, as usual, with the law," said Silverstein, who represents the La Mirada Avenue Neighborhood Association that sued to stop the project.
CIM Group, the developer, declined to comment, according to Karen Diehl, a spokeswoman for the Los Angeles-based builder of the tower.
Also in October, Judge Richard Fruin ordered construction halted at a Target store on Sunset, after Silverstein argued the city improperly granted such zoning variances as a 74-foot (23-meter) height for the building, more than twice the limit for the site.
'Dangerous Development'
"We weren't against the Target," said Silverstein, who also represents the La Mirada community group in the dispute too. "We were against the law-breaking Target. We're not against development in Hollywood, but we are against foolish and dangerous development."
Target still plans to complete the store, according to Erika Winkels, a spokeswoman for the Minneapolis-based retailer.
"Due to pending litigation, we are unable to share specific details," she said in an e-mail.
Neighborhood groups originally opposed the Millennium Hollywood, a proposed twin-tower hotel, residential and retail development, because it was more than twice the height of the nearby landmark Capitol Records building and threatened to block views and increase congestion. Then Silverstein learned of studies indicating the proposed project stood on an active earthquake fault. He sued in August 2013, alleging the city council violated CEQA in approving the massive project without weighing all of the facts. A state geologist's report in November confirmed the Hollywood Fault runs through the site.
'Ram Through'
"If Phil Aarons and the Millennium people had not been such over-reaching pigs in trying to ram through two skyscrapers, it would never have triggered the backlash that it did," Silverstein said.
Aarons, principal and co-founder of Millennium, said he intends to proceed with his Hollywood plan.
"We look forward to continuing that work in Hollywood with a project that we have carefully designed," Aarons, whose firm also has developments in Manhattan, Miami, Boston, Washington and San Francisco, said in an e-mail. "It's unfortunate that a small group of very vocal hillside residents continue to press their opposition when so many people both in the local community and throughout Los Angeles share our vision of what Hollywood can and should be."
The possibility of action by Silverstein deters some developers from working in Hollywood, said Jerold Neuman, an attorney with the Los Angeles firm of Liner LLP who has represented Millennium.
Challenge Posed
"It poses a challenge for developers who need to get these things done in a relatively short period of time," Neuman said in a telephone interview.
Greenland Holding Group Ltd. steers clear of Hollywood and other communities where the company may face protracted opposition, said Ifei Chang, chief executive officer of the U.S. unit of the Shanghai-based development company.
"We want to invest in a city that's more forward-thinking," said Chang, whose projects include the $1 billion Metropolis in downtown Los Angeles and the $5 billion Atlantic Yards in Brooklyn. "Communities that say 'not in my backyard' might not welcome us. Those cities aren't in the picture."
Silverstein, a Los Angeles native, said he won his first judgment in 1991, before he was a lawyer, when he persuaded a magistrate in Mexico that he should be compensated by a hotel owner whose pet monkey, Rambo, bit his hand.
"It was worth about $45," he said of the award.
'Laser-Focused'
A graduate of the University of California Hastings College of the Law in San Francisco, Silverstein, who passed the bar in 1996, said he became interested in land-use law as a student while clerking for the California Supreme Court. He's single and "laser-focused" on work at his Pasadena, California-based Silverstein Law Firm, he said. His only pastime is watching baseball.
"I'll go to a game," said Silverstein, whose firm also employs two full-time attorneys. "But the sad part is I always have a brief or a case with me."
Los Angeles Mayor Eric Garcetti, who represented the Hollywood area when he was a city councilman, is a frequent Silverstein target. Garcetti was an architect of a 2012 Hollywood community plan that called for more high-rises and denser development near stops on the region's subway line.
The city council rescinded the plan last April, after Los Angeles Superior Court Judge Allan Goodman ruled it was "fundamentally flawed, and fatally so" because it relied on outdated population estimates.
'No Fear'
Garcetti is "constantly giving aid and comfort to those that would harm the environment and break the law with no fear of enforcement by the city," said Silverstein, who represented some of the plaintiffs in the community plan suit.
Garcetti, who was elected mayor in 2013, said he doesn't favor developers over other interests in Los Angeles.
"Let me be clear here: Bad development has no place in Los Angeles," Garcetti said in an interview yesterday at his downtown office. "I'm not pro-development. I'm pro this city."
Leron Gubler, president of the Hollywood Chamber of Commerce, points to the renaissance in his own neighborhood because of Garcetti's support and an influx of developers.
"Twenty-two years ago, this area was in the dumps and businesses were leaving left and right," he said. "At that time, the homeowners in the hills particularly were extremely supportive of anything that meant change in the flats -- the poorer areas in Hollywood -- as they also reflected poorly on their neighborhoods."
Reforms Advocated
R.J. Comer, a land-use attorney with the Los Angeles firm of Armbruster Goldsmith & Delvac LLP, advocates reforms to make it harder for neighborhood groups to block projects. He and other development proponents propose changes such as limiting the number of challenges to a plan, stopping the invalidation of construction permits due to minor non-compliance issues and exempting projects with affordable housing from some CEQA rules.
Even if California laws are altered, conflicts are likely to multiply as an improving economy boosts development. In November, actor and director Rob Reiner helped push through an initiative in Malibu to require voter approval for commercial projects exceeding 20,000 square feet (1,860 square meters). Developers filed a court challenge to the measure this month. In New York, neighborhood groups are fighting the inclusion of affordable housing at New York's 85-acre (34-hectare) Brooklyn Bridge Park.
"There will be more of that in Hollywood and other places," Comer said. "I don't want to invite sharks into tranquil waters, but it's going to happen as cities get more dense."
Silverstein said he already has more work than he can handle.
"There's no shortage of government abuse, and there's no shortage of people fighting government," he said. "It's like drinking from a fire hose."
Before it's here, it's on the Bloomberg Terminal.
LEARN MORE