Gundlach's DoubleLine Plans Its First Infrastructure Fund
Mary Childs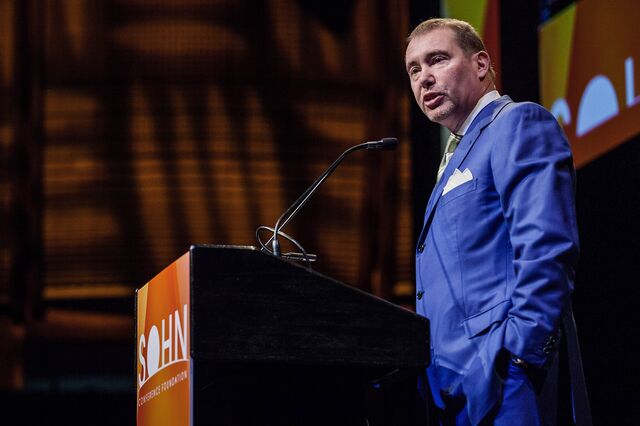 Jeffrey Gundlach's DoubleLine Capital plans to start its first fund dedicated to finance projects such as bridges, roads and tunnels.
"We'll probably do a fund on infrastructure -- we're working on that," Gundlach, 55, said yesterday in an interview at DoubleLine's Los Angeles headquarters. The "estimates of what's needed are mind-blowing," he said, citing predictions of as much as $30 trillion globally.
Gundlach, whose fund company oversees $64 billion, is bullish on infrastructure in the U.S. and globally as banks have cut back lending. DoubleLine joins money managers Oaktree Capital Group LLC, KKR & Co. and Canadian pension Caisse de Depot et Placement du Quebec in seeking to fill the void left by banks, as they seek alternatives to traditional bond investments, whose returns have been eroded by years of near-zero interest rates.
Infrastructure projects are attractive because they have viable cash flows and yields are higher than those provided by other securities, without bringing excessive risk, Gundlach said. Nonbank sources of money are becoming increasingly important in financing projects as the traditional lenders adapt to heightened capital standards and governments seek to fix their balance sheets, according to PricewaterhouseCoopers.
Gundlach said debt backing a replacement for the Tappan Zee Bridge, a priority of New York Governor Andrew Cuomo, is an example of the kind of project the fund might invest in. The $4 billion bridge about 20 miles north of Manhattan that crosses the Hudson River is among the nation's largest public-works projects.
Private Financing
U.S. President Barack Obama's administration, which had resisted private financing for public works, has signaled a shift in strategy because of the many cash-strapped state governments. Transportation Secretary Anthony Foxx put it more bluntly when he announced the Build America Investment Initiative in July.
"There will always be a substantial role for public investment," Foxx said. "But the reality is we have trillions of dollars internationally on the sidelines that are not being put to work."
Michael Sabia, chief executive officer of Quebec's Caisse, Canada's second-biggest pension, has said operating new infrastructure will allow it to bolster returns. The pension fund is already an owner of about C$10 billion ($8.4 billion) of assets such as ports, power transmission in countries including Australia, France and the U.S.
Curbing Volatility
"America is a great country, but God you need infrastructure investment here," Sabia said in a Nov. 20 interview at Bloomberg's New York headquarters, estimating there are trillions of dollars waiting to be invested in these assets by global pension and sovereign wealth funds.
By increasing investments in less-liquid assets, Sabia hopes to curb volatility associated with public markets, which he expects will heighten this year and next as central banks withdraw stimulus.
Gundlach, whose $41.8 billion DoubleLine Total Return Bond Fund has beaten 93 percent of its peers in the past three years, according to data compiled by Bloomberg, echoed that call. In an investor webcast yesterday, he forecast "substantially higher volatility in terms of people's anxiety level."
Gundlach said in the webcast that U.S. economic growth may fall short of economists' expectations this year amid plunging oil prices. Stock markets may not continue their rally and yields on 10-year Treasuries may go lower before rising again, he said. Core prices are heading "the wrong way" for anyone considering buying Treasury Inflation Protected Securities, "even though they're kind of cheap," according to Gundlach.
'Death Spiral'
As growth slows, Gundlach advised avoiding real estate investment trusts tied to malls. The REITs are entering a "secular death spiral" as brick-and-mortar shops lose market share to online shopping, he said.
Instead, he said investors with an appetite for risk should consider buying debt from Puerto Rico. Even though the securities will swing in price as the commonwealth and its agencies stagger under $73 billion of debt, Gundlach said they will find a way to pay.
"I don't care if they flop around," he said.
Oaktree, an early backer of DoubleLine, was planning to start raising its first infrastructure fund this year. The $93.2 billion investment firm is led by senior executives including co-chairman Howard Marks.
KKR, the private-equity firm led by Henry Kravis and George Roberts, is seeking $2 billion for its second fund dedicated to infrastructure investments globally, Bloomberg News reported in April. Other firms that have been gathering money for infrastructure include I Squared Capital LLC and Bastion Infrastructure Group.
Before it's here, it's on the Bloomberg Terminal.
LEARN MORE