How to Pull Off Italian Dandy Style And Not Look Like a Jerk
When it comes to dressing smart, nobody does it better than the Italians. This week, the entire world can get the same education during Pitti Uomo
By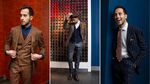 When it comes to dressing smart, nobody does it better than the Italians (my source on that fact: me). I purposely studied abroad in Florence to apprentice-by-osmosis the ways of the signori (Italian for "ballers") who dressed up for no apparent reason. For them, just walking a hound down Via de' Tornabuoni seemed to count as a high-style occasion.
This week, the entire world can get the same education during Pitti Uomo. The world's preeminent menswear tradeshow brings together retailers, editors, and the most dapper men from around the globe to do business—and flaunt some serious besuited style in the streets (and on the Internet). And if you're like me, you're taking notes. 
But as much as you may admire it, the fashion at Pitti Uomo can be a bit intimidating. Sure, it looks great on Whippet-thin Italian dandies, some of whom spend hours each morning on their facial hair alone. But what about you, who have to go to an office and don't have the world's best tailors at your beck and call? Can you make this work in the real world?
The answer is: yes. With a few simple rules and outfits to emulate, almost anyone call pull off that plaids-and-patterns, sharper-than-a-razor Pitti look at home.  And Bloomberg Pursuits is here to help.
The Rules
Be bold. When it comes to plaid suits, you go loud or go home. Period.
Be tailored. Fit is the most important element. But this doesn't mean you need to go bespoke. A well-tailored suit off the rack can look just as elegant, and you can get it in a third of the time.
Be detailed. You know who lands on leading street-style blogs? Those men who go the extra mile with their accessories. Don't skimp on socks, gloves, hats, or glasses.
Be confident. With this base layer on, you can wear anything. And remember, suits look best when they're paired with perfect posture. 
Outfits to Try
To compile these Pitti-style looks stateside, I teamed up with Suitsupply Madison Avenue, a great source for a wide variety of suiting and dress accessories. Tommy Ton, take note.
Three-Piece Business Suit

Two-piece suits are a dime a dozen, so if you show up in a three-piece rig like this, you'll already be ahead of the pack. (Bonus: Each component can be worn separately or together, so one three-piece suit means five different outfits.) Opt for color or, better yet, pattern. Since we are talking about Florence and not Wall Street this week, I paired this red-and-orange plaid suit with a denim shirt for a more casual vibe, while letting leather tassel loafers do some additional talking. (Double monkstraps are welcome, too.)
Pattern Play

You didn't think a pinstripe suit went with a check shirt and houndstooth tie? Yeah, neither did I at first. Some 99 percent of the time, mix-and-matching patterns won't work out; but when it does, it's magic. So go bold with your pinstripe suit—like this navy chalk-stripe number—pair it with a subdued shirt, and get playful with your tie and pocket square. A vintage-inspired timepiece like this Cartier Tank is a gentlemanly finishing touch.
Double Trouble

A day won't go by at Pitti without at least two or three dozen double-breasted blazer sightings. I paired this flannel jacket with a chunky knit turtleneck in forest green and a plaid cuffed pant for that.
Signore Jones

When you're in the heart of Florence seeking new brands, trends, and menswear treasures, it's OK to go a little Indiana Jones, especially with the slimmed down silhouette of today's military-inspired cargo pants. We matched a pair with a pinstripe vest and a houndstooth jacket. Mixing textures such as suede with flannel, wool, or tweed is often a subtle but handsome way to catch the eye.
Camel Clash

The best part about a camel coat is that anything against it, be it a color (red, green) or pattern (argyle, herringbone), pops perfectly.
Clothing above available at Suitsupply NYC, Madison Avenue or online Suitsupply.com. 
(Moti Ankari is the associate market editor for Bloomberg. Follow him on Twitter @motiankari and Instagram @themetroman or contact him at mankari@bloomberg.net.)
Before it's here, it's on the Bloomberg Terminal.
LEARN MORE