Fiorina Says 'There'll Be Time' to Scrutinize 'Other Presidential Candidates'
She urges 2016 contenders to keep their eyes on smaller entrepreneurs like the "corner tacqueria and nail salon."
By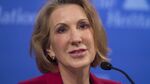 Republican Carly Fiorina on Tuesday resisted jumping into the fray that is the emerging presidential primary field, a race she has said she is considering joining.
"I haven't spent a lot of time looking at other presidential candidates' policy statements," the former Hewlett Packard CEO said at an entrepreneurship event in Washington, when asked what she thought of the field. "There'll be time for that."
Her comments come after former Florida Governor Jeb Bush set off a scramble in Republican politics with his moves toward a White House campaign. Former Massachusetts Governor Mitt Romney, whom Fiorina backed in the 2012 primary, has expressed renewed interest in a third bid. Shots from Kentucky Senator Rand Paul and Texas Senator Ted Cruz have followed.
Fiorina struck a populist tone in a question-and-answer session at the event, calling Washington a town of "big business, big labor" and urging 2016 contenders to keep their eyes on smaller entrepreneurs like the "corner tacqueria and nail salon."
The event, hosted by the University of Virginia's Miller Center and the S&R Foundation, marked the release of a report that Fiorina helped write with former AOL CEO Steve Case.