Detroit Auto Show: Dude, Where's My Pickup Truck?
Foreign carmakers have rushed into every possible category except this one
By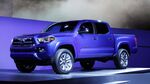 For decades, the American truck has been untouchable—as much a quirk of international tax law as anything the automakers did right. In 1962, frustrated by a glut of U.S. poultry, the European Economic Community began taxing chicken imports. The U.S., in turn, levied a 25 percent tariff on a wide range of European imports, including potato starch, brandy, and—you guessed it—light trucks. The "chicken tax," as it's called, persists to this day, and it has kept foreign car companies largely out of the truck market.