Debunking the Myth of Muslim-Only Zones in Major European Cities
Stories about big Western cities surrendering neighborhoods to control of Islamist extremists are shocking—and totally false
By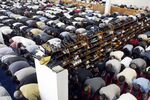 Entire neighborhoods of Paris, London, and other European cities have become Muslim-run "no-go zones," off-limits to law enforcement and governed by Islamic sharia law. The story, making the rounds since last week's Paris terror attacks, is shocking—and demonstrably untrue. Yet it continues to spread.
Steve Emerson, a U.S. television commentator, set off a firestorm in Britain on Jan. 11 when he told Fox News that "non-Muslims just simply don't go in" to the British city of Birmingham, and that in some parts of London, "religious police" beat people who don't wear "religious Muslim attire." Prime Minister David Cameron called Emerson "a complete idiot," and Emerson quickly backtracked, admitting he had made "an inexcusable error." British social media had a field day, with Twitter posts showing "sharia-compliant" cloth-covered jars of homemade jam and photoshopped images of mosques dominating the Birmingham skyline.
The story didn't die there. Nigel Farage, head of Britain's anti-immigrant U.K. Independence Party, asserted on Jan. 13 that there were no-go zones "right across Europe. We have got no-go zones across most of the big French cities," he told Fox News. Another Fox commentator, Nolan Peterson, has been posting online reports this week saying that some 750 areas in France have been "marked as off-limits by French authorities, restricting access by police and other emergency services."
While the British were outraged, the French simply seem amused. Paris social-media wags have already posted a guide to "eating and drinking in the no-go zones," which happen to include some of the city's trendy gentrifying neighborhoods.  
In fact, France does maintain a list of 750 "sensitive" neighborhoods. Far from being considered "off limits" to  authorities, they've been designated as priority areas for urban renewal and other forms of state aid.
"That's pretty funny," says Hait Abbas, a non-practicing Muslim who runs a wine shop in a Paris neighborhood among those identified by Peterson as a no-go zone. Far from being Muslim-dominated, the neighborhood near the Gare du Nord train station bustles with Italian delis, African hair-braiding shops, and Chinese massage parlors. If it's governed by Islamic law, Abbas says, "I guess I better cut my hand off."
Where did the story of the no-go zones come from? Daniel Pipes, a U.S. historian and political commentator, says he believes he was the first person to refer to disadvantaged French neighborhoods as no-go zones. In a 2006 article, he said the existence of the zones suggested "that the French state no longer has full control over its territory."
Pipes now says he was mistaken. In 2013, after traveling to several listed Paris neighborhoods and mainly immigrant and Muslim areas of five other European cities, he wrote: "For a visiting American, these areas are very mild, even dull. We who know the Bronx and Detroit expect urban hell in Europe, too, but there things look fine … hardly beautiful, but buildings are intact, greenery abounds, and order prevails. … Having this first-hand experience, I regret having called these areas no-go zones," he wrote.
In an e-mail to Bloomberg Businessweek today, Pipes says that a no-go zone "is a place where the government has lost control and cannot enforce the rule of law." There are, he now says, "no European countries with no-go zones."
Meanwhile, though, the idea of European no-go zones took root. After riots broke out in some French suburbs in 2012, analyst Soeren Kern of the Gatestone Institute, a New York-based think tank, wrote that France was trying to "reclaim no-go zones," including the  areas that had been listed in Pipes's 2006 report. Kern defined them as "Muslim-dominated neighborhoods that are largely off-limits to non-Muslims." In other reports, Kern has written that Germany, Italy, the Netherlands, and Sweden also have no-go zones.
Fox news commentator Peterson, a freelance writer and U.S. Air Force veteran, didn't respond to messages sent via his website and Twitter feed. But according to his website, he studied in Paris from 2004 to 2006 after graduating from the Air Force Academy. In a Jan. 10 Fox News interview, Peterson said he visited some areas around Paris that were "pretty scary.  I've been to Afghanistan, Iraq, Kashmir, India, and at times it felt like … those places. You see young men wearing Osama bin Laden T-shirts."
As with many urban legends, there are grains of truth in this one. Many French Muslims live in tough, isolated neighborhoods and have faced discrimination in housing and employment. Sometimes, police are afraid to respond to calls from dangerous neighborhoods in France and elsewhere. A few years ago, an Islamist group in Britain demanded that the government establish autonomous sharia-governed zones in some cities. The government swiftly outlawed the group, and it hasn't been heard from since.
The next stop for the no-go legend could be the U.S. "This is actually a strategy that is slowly being implemented worldwide by radical Islam," Harry Houck, identified as a private investigator and retired New York City police detective, told conservative news website Newsmax on Tuesday. 
—With Gregory Viscusi and Steve Rhinds in Paris