Charlie Hebdo EBay Bids Reach Thousands of Dollars in Europe
Kristen Schweizer and Amy Thomson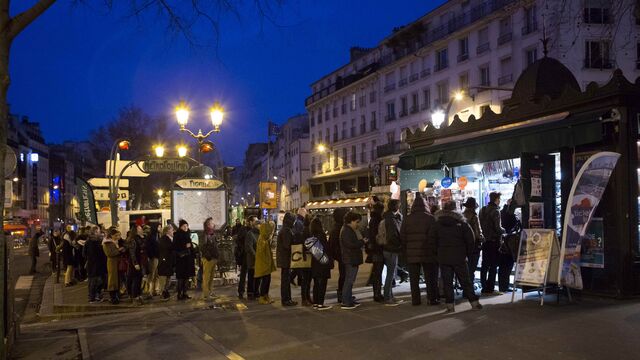 Bids for the post-attack edition of Charlie Hebdo, which depicts the Prophet Muhammad on its cover, are running for thousands of dollars on EBay Inc.'s U.K. and French sites.
One British auction closed at a purported 100,000 pounds ($152,320), though EBay did not confirm whether that was genuine. Other sales of the one-off English-language version of the magazine were priced between 100 pounds and 5,000 pounds on the U.K. site.
This week's magazine cover portrays Muhammad weeping and holding a placard that reads "Je suis Charlie" or "I am Charlie," the message supporters of the satirical weekly have worn and posted worldwide after 12 people were killed at the magazine last week by terrorists. Above the cover's caricature are the words "All is Forgiven."
The magazine appeared on newsstands in France early today and has since sold out. It's on sale in 16 languages worldwide with about 3 million copies printed originally, though this is being increased to 5 million, Véronique Faujour, president of the distributor MLP, told Agence France-Presse. Its usual print run is about 60,000 copies.
"When things are emotionally charged and people are reacting with their emotions they'll make financial decisions that they might not usually make," said Cassandra Hatton, a senior specialist in fine books and manuscripts at Bonhams auction house. "I don't think the papers will necessarily sell for a fortune later, but people want to be involved in this somehow. They want to have a tangible piece of history."
The bids have gotten as high as 62,050 euros ($73,269) on EBay's French site, again unconfirmed by EBay. In the U.S., the magazine was selling for as much as $1,025 and one seller was offering it for as much as $14,672.
A total of 17 people were killed last week in the Charlie Hebdo attack and others around Paris in the worst such assault in France in more than half a century. The three gunmen were also shot dead by police.
The attacks have also driven demand for previous copies of the magazine that depicted controversial drawings of Muhammad. A Charlie Hebdo cartoon from 2011, featuring a caricature bearing the message "100 lashings if you don't die of laughter" was being offered on EBay's French site for thousands of euros.
The Paris offices were subsequently destroyed in a firebomb attack after publishing that 2011 cover, an edition in which editors named Muhammad its guest editor.
Charlie Hebdo has been published every Wednesday for the past 22 years.
Before it's here, it's on the Bloomberg Terminal.
LEARN MORE