Yuan Comeback Seen by Top Forecasters on Spending: China Credit
Justina Lee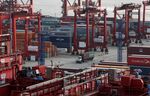 The yuan will stage a comeback this year as China's government boosts spending to revive economic growth, according to two of the currency's top three forecasters.
Swissquote Bank SA and Nomura Holdings Inc., which placed second and third in the latest rankings compiled by Bloomberg, predict gains of 1.7 percent and 1.5 percent, respectively, this year. Top-ranked Credit Suisse Group AG sees a 0.7 percent decline. The yuan declined 2.4 percent in 2014 in its first loss in five years.
"We're going to see a relatively strong and decisive move from policy makers, both from a monetary policy standpoint and in terms of further infrastructure spending," Peter Rosenstreich, head of market strategy at Swissquote Bank, said in a Jan. 7 phone interview from Gland, Switzerland.
The prospect of gains in the currency and yields near an 18-month high are making offshore yuan notes attractive to investors including HSBC Global Asset Management. Premier Li Keqiang's government is speeding up work on 7 trillion yuan ($1.1 trillion) of infrastructure projects this year, according to people familiar with the matter. Policies to broaden foreign investor access to onshore bond and stock markets also helped spur rallies in 2014.
Bright Spot
"The yuan may be one of the bright spots in 2015 as the internationalization of the Chinese currency continues," Herve Lievore, senior investment strategist at HSBC Global Asset, said at a Jan. 8 press briefing in Hong Kong. Dim Sum bonds offer good returns for the risk involved, given the "unique combination" of decent yields and the yuan's potential gains against most currencies, he added.
The best forecasters in Bloomberg's rankings were identified by averaging individual scores on margin of error, timing and directional accuracy in the past four quarters. The yuan rose 0.02 percent today to 6.1970 a dollar as of 10:11 a.m. in Shanghai, China Foreign Exchange Trade System prices show.
The currency may decline in the first half of the year as an estimated $500 billion of speculative short-term debt built up between mid-2009 and mid-2013 is repaid or hedged, according to Ray Farris, global head of currency strategy in Singapore at Credit Suisse. As the Federal Reserve's stimulus flooded global markets with cash over the last six years, China's firms borrowed abroad and took the money home to buy higher-yielding assets. The appeal of such trades was also boosted by the yuan's 13 percent rise from 2010 through 2013.
Debt Repayment
"As repayment and hedging of the debt progresses, that source of pressure on the currency to weaken will eventually exhaust itself," Farris, who sees the yuan dropping to as low as 6.25 a dollar by end-2015, said in a Jan. 7 phone interview. "By the end of the year, the main flows that are likely to be driving the currency should be the sum of the current-account surplus and the net foreign direct investment surplus, and that represents a large net inflow on a quarterly basis."
China's trade excess will widen as exports grow while imports fall due to slower expansion and better terms of trade, Farris added. Overseas shipments rose 9.7 percent in December from a year earlier, exceeding the 6 percent median estimate in a Bloomberg survey, and imports declined 2.4 percent, according to official data released yesterday. The trade surplus climbed to a record $54.5 billion in November and was $49.6 billion last month.
Outflow risks
The risk of capital outflows will discourage the PBOC from pursuing a weaker yuan, according to Craig Chan, head of Asia ex-Japan foreign-exchange strategy at Nomura, which sees the yuan at 6.11 by the year-end. The central bank, which said in its fourth-quarter policy report that it will keep the exchange rate stable, has raised its fixing 0.4 percent in the past three months.
A weaker yuan would impede China's quest of boosting global use of the currency, Chan said. Its losses dented the offshore yuan bond market last year, with the average yield climbing 101 basis points to 4.70 percent after dropping in the previous two years, according to a Deutsche Bank AG index.
The tide may turn in 2015. The yuan's 1.3 percent forecast gain this year will make it Asia's second-best performer, Bloomberg surveys of strategists show. The currency will be boosted by further monetary easing, according to Swissquote's Rosenstreich, who projects a year-end level of 6.10. China cut its lending and deposit rates in November for the first time since 2012.
A gauge of local bonds gained 12 percent in 2014, more than in the previous five years combined, Bank of America Merrill Lynch data show, as foreign investor holdings increased. A stock link between Hong Kong and Shanghai contributed to a 53 percent gain for the latter's benchmark index. China is accelerating 300 infrastructure projects to combat an economic slowdown, while economists are forecasting cuts in interest rates and reserve requirements this year.
"The market will see policy makers being proactive as a sign for a stronger yuan," Swissquote's Rosenstreich said. "Chinese assets are going to continue to be in high demand."
Before it's here, it's on the Bloomberg Terminal.
LEARN MORE