Yen's Fallout Seen Striking the Won Hardest in Asia: Currencies
Lilian Karunungan and Liau Y-Sing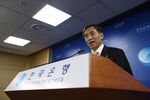 The top forecasters of Asia's emerging-market currencies agree: stay away from South Korea.
The won will suffer the region's biggest decline against the dollar in 2015 as policy makers intervene in an attempt to counter the effects of a weakening yen, they say. ABN Amro Bank NV, which posted the most accurate estimates in Bloomberg's emerging-Asia rankings last year, sees it tumbling about 4 percent to 1,130 per dollar. National Australia Bank Ltd. and Scotiabank, which placed second and third, are more bearish.
While South Korea's currency is falling against the dollar, it's at an almost seven-year high versus its Japanese counterpart, making it harder for exporters from Hyundai Motor Co. to Samsung Electronics Co. Ltd to compete. The government downgraded its 2015 growth forecast on Dec. 22 to 3.8 percent from 4 percent, again citing the decline in Japan's currency.
"The won is very sensitive to movements in the yen," Roy Teo, a Singapore-based strategist at ABN Amro, said in a Jan. 9 interview. "After the Bank of Japan further eased monetary policy last year, South Korea intervened to weaken the won. If investors see the yen weakening substantially, their natural reaction will be to sell the won."
Biggest Loser
NAB sees the won falling about 10 percent to 1,200 per dollar by year-end from 1,083.36 today, more than double its 3.8 percent slide in 2014. Scotiabank predicts a drop of about 8 percent to 1,170.
All three of the top forecasters estimate the won's depreciation will be the largest among emerging-Asian peers. Last year, it was the region's eighth-biggest loser versus the dollar, reaching a 1 1/2-year low of 1,122.2 on Dec. 8.
The best forecasters in Bloomberg's rankings were identified by averaging individual scores on margin of error, timing and directional accuracy during the past four quarters. ABN Amro scored 68.68 to lead the rankings for a second straight quarter, with NAB at 66.69 and Scotiabank scoring 63.7.
It's a different story against the yen. South Korea's currency climbed yesterday to 9.0656 per yen, its strongest level since March 2008. The exchange rate has surged more than 30 percent since the end of 2012, when Japanese Prime Minister Shinzo Abe took office and set about expanding the money supply with an unprecedented stimulus program.
'Smoothing Operations'
As the won's value against the yen rose, South Korea's policy makers stepped up their rhetoric. BOK Governor Lee Ju Yeol has said that the weaker yen is hurting the local economy and pledged in November to maintain market stability when necessary.
Government and central-bank officials say any foreign-exchange intervention is limited to "smoothing operations" to damp excessive price swings. The size or timing of any action isn't revealed. Lee Seung Heon, the head of the foreign-exchange market team at the BOK in Seoul, declined to comment when contacted by Bloomberg News.
"The BOK's monetary-easing stance may lead to further erosion of the won's attractiveness," Christy Tan, NAB's Hong Kong-based head of markets strategy, said Jan. 7 by e-mail.
Japan and South Korea are major competitors in the global export market for everything from electronics to automobiles, making the exchange rate between the two nations vital for the nations' economies. There's growing evidence that the won's strength against the yen is already starting to hurt Korea.
Slowing Growth
Hyundai and Kia Motors Corp., the nation's largest automakers, said this month that 2015 would see the slowest growth in sales in nine years, citing the weak yen as one of the issues they face.
The picture isn't entirely negative, as South Korea's current-account surplus reached a record $11.4 billion in November. That, coupled with authorities realizing that seeking a weaker currency is "ineffectual," will propel the won to a 5 percent gain to 1,025 per dollar by year-end, according to Bank of Tokyo-Mitsubishi UFJ Ltd.
"There's no short-run answer to boosting competitiveness," Cliff Tan, the bank's Hong Kong-based head of East Asia research, said by phone yesterday. "If the current-account surplus remains large, that would partly be the reason for the won to get back to 1,025."
Bank of Tokyo-Mitsubishi UFJ is the most bullish in Bloomberg's survey. The median estimate puts the year-end value at 1,140 per dollar, or about 5 percent weaker than today.
The won is also being undermined by a growing consensus the central bank will cut interest rates to stem gains versus the yen. The median estimate of 24 economists surveyed by Bloomberg last month was for a quarter percentage-point reduction in South Korea's benchmark to 1.75 percent in the first quarter. The previous month's survey saw no change to borrowing costs.
The authority "certainly would resist any strong degree of won strength that wasn't in line with a similar yen move," Sacha Tihanyi, a Hong Kong-based currency strategist at Scotiabank, said by e-mail on Jan. 7.
Before it's here, it's on the Bloomberg Terminal.
LEARN MORE