Would You Pay $2 Billion for the Brooklyn Nets?
Mikhail Prokhorov will make a bundle, but not a Donald Sterling bundle
By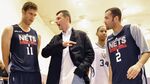 After months of rumors, the Brooklyn Nets are for sale. Mikhail Prokhorov, the Russian billionaire who bought the NBA team in 2010, has hired Evercore Partners to help him sell, according to Bloomberg News.