Why Ben & Jerry's Launches New Ice Cream Flavors in the Winter
It may be cold outside, but winter marks the start of ice cream launch season
by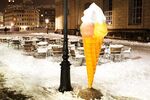 We're deep in the throes of winter, there's a good chance it's colder than 20 degrees wherever you live, and you've probably just resolved to drop five pounds. It also happens to be the beginning of ice cream launch season.
Today, Ben & Jerry's is launching three flavors with cookie cores, which join the brand's existing "core" lineup of ice creams that have such fillings as fudge, caramel, and raspberry jam. They're called Boom Chocolatta! Cookie Core, Peanut Buttah Cookie Core, and Spectacular Speculoos Cookie Core. The center has a texture that's kind of like cookie dough, but crunchier, says John Henry Siedlecki, senior brand manager at Ben & Jerry's. 

The heart of ice cream season beats roughly from Memorial Day to Labor Day, but retailers reset their freezers in the start of the year so they can be fully stocked and consumers will be familiar with the new flavors by the time weather warms up, says Siedlecki. Most new ice creams are launched from January to April, he notes, while other supermarket products make their debuts on different cycles. "I worked in laundry detergent and—depending upon which aisle you're in in the store—you might get some summer resets," Siedlecki says.

New flavors also give consumers a reason to buy ice cream during a season when most are more inclined to eat other things for dessert. "It does sound counterintuitive because you assume, come winter, no one really wants ice cream," says Euromonitor International analyst Matthew Hudak. "But it's a time for flavor competition simply because it's one of the few things that can drive sales at the time."
Siedlecki says Ben & Jerry's typically releases new flavors in February, but the company wants to get ahead of  the competition this year—which sounds remarkably like holiday retail logic. Maybe one day ice cream launch season will start right after Halloween. 
Before it's here, it's on the Bloomberg Terminal.
LEARN MORE