The Nicest Surprises at the Detroit Auto Show? SUVs
By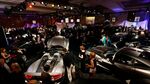 This week at the Detroit Auto Show, luxury SUVs are the best things in sight.
That's if you consider "sport activity coupes" and "crossovers" SUVs.
Jaguar and Alfa Romeo each announced plans to introduce all-new crossover models, while Audi, Bentley, BMW, Mercedes-Benz, and Land Rover have each updated existing SUV lines or released fresh news about long-planned-for rigs.
The resounding message here in Motor City? That the luxury SUV market won't stall anytime soon.
"We are projecting double-digit growth in this sector for the foreseeable future," said Jaguar VP of Marketing Kim McCullough. "So having a crossover brings a lot to the brand—it puts us in a position of strength."
Jaguar and Alfa Romeo
On Monday Jaguar announced its upcoming F-PACE, a performance-based crossover that is built on the XE sedan platform and will go on sale in 2016. Company executives expect it to attract as many new buyers as the Evoque, which brings in 80 percent new consumers to sister-brand Land Rover.
Also on Monday Alfa Romeo head Harald Wester told reporters the company would produce an as-yet unnamed mid-size sport utility vehicle by 2018. The SUV will be a key part of Alfa's outreach to American buyers, who until last year hadn't been able to buy any new Alfa Romeo model stateside for more than two decades.

Elsewhere, BMW and Mercedes-Benz each reiterated efforts to bolster their already considerable SUV lineups. BMW showed off its latest X4, which competes against the Evoque and the Porsche Macan, and Mercedes debuted two GLE models, one of which is the aggressive GLE 63 AMG crossover.
As befitting its AMG heritage, that GLE 63 AMG has a 577-horsepower twin-turbo V8 engine. It will go from 0 to 60 mph in 4.2 seconds—and is one of four new utility vehicles Mercedes will launch this year.
"The Year of the SUV"
"This is the year of the SUV," Daimler AG Chairman Dieter Zetsche told reporters. "The timing is just right."
Meanwhile, executives at Porsche showed off the 2016 Cayenne Turbo S, which they claim is now the fastest SUV on the market (its 570hp V8 will hit 60mph in an estimated four seconds). In fact Porsche was one of the first automakers to produce a truly luxurious SUV, the $60,000–$120,000 Cayenne, back in 2002. But executives there didn't seem at all concerned that newcomers from the likes of Jaguar and Bentley will make the segment too crowded.
"A lot of people have learned that the SUV segment is still growing worldwide," Porsche North America President Detlev von Platen said Monday. "Is that a threat to us? No. We love competition."

Before it's here, it's on the Bloomberg Terminal.
LEARN MORE