The Most Bizarre Moments From the London Menswear Shows
By and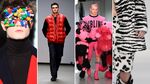 There are three types of pieces that make their way down the runway: First, there are the pieces that trot that walk all the way into your closet. Second, there's a whole range of stuff that is made just for the runway, and that should stay on the runway. And finally, there are some pieces that should never have even stepped foot under the lights in the first place.

London is home to some of the finest tailoring and creative minds, and is often where our favorite trends emerge. And then there are spectacular misfires like these—bizarre looking items that manage to fling themselves in front of the cameras and cause even jaded fashionistas like ourselves to scratch our heads. Below, our top "Wha??" moments from the London Men's Collections:
Christopher Raeburn

"Inflatable outerwear: genius or gross?"
Sibling

"No words, besides NO."
Moschino

"Real men don't wear sequins (or Dalmatian-print fur moon boots)."
Agi & Sam

"Leave the Lego Masks for the toddlers ... or Kanye West."
Before it's here, it's on the Bloomberg Terminal.
LEARN MORE