The Great Skyscraper Comeback Skips North America
Developers added 97 buildings of at least 200 meters in height to the global skyline last year
by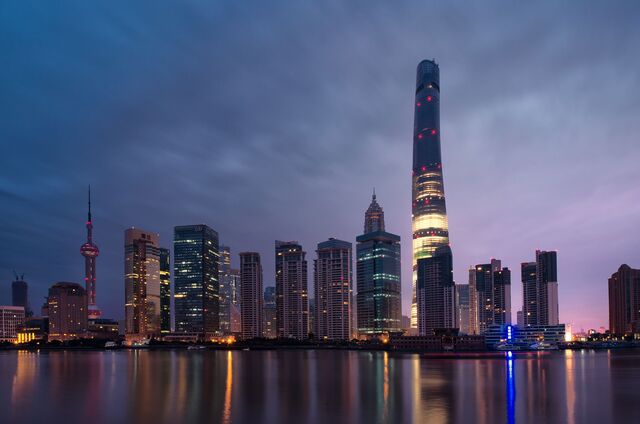 Tall buildings are back. Developers around the globe completed a record 97 buildings of at least 200 meters (656 feet) in height in 2014, according to a new report from the Council on Tall Buildings and Urban Habitat, as size-obsessed builders got back on a growth track after a two-year skyscraper dip.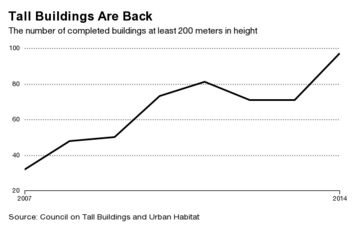 It's not hard to explain the pattern. A typical skyscraper takes two to four years to finish, says report co-author Daniel Safarik. Work back from the year of completion, and the global financial crisis looks like an easy explanation for the drop-off in tall buildings. If you thought it was hard to get a home loan in 2009, imagine asking bankers to finance a gravity-and-wind-defying symbol of luxury, industry, and capitalist will. Especially, as Bloomberg Businessweek's Bryant Urstadt pointed out, since supertall buildings are notorious for being hard to fill with tenants. (It's worth noting that "tall" isn't a technical term, though "supertall," which is used to describe buildings more than 300 meters tall, is. And construction schedules vary. The Ryugyong Hotel in Pyongyang, North Korea, planned for 330 meters, has been under construction for 28 years, according to a CTBUH report last year.)
Alternatively, you could argue that the current skyscraper craze never really went away. Economic meltdown aside, developers finished more than twice as many 200-plus-meter-tall buildings in 2012 than they did in 2007, which at the time had been the most prolific year for tall buildings. The number of 200-meter-plus buildings has more than quadrupled since 2000.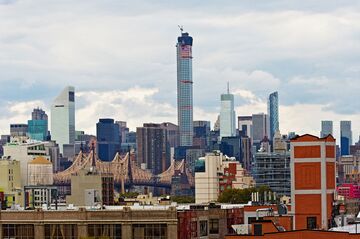 In any case, the trend is likely to continue. The CTBUH projects as many as 130 200-meter-plus buildings will be finished in 2015, including the 128-story Shanghai Tower and the 101-floor Marina 101 in Dubai. Even more tall buildings are expected to be completed in 2016.
So are all these talls and supertalls changing the way we live? That depends on whom you mean by "we." More than half of the 200-meter-plus buildings completed last year are in China, where more than 300 million people have moved to cities since 1995. Urbanized workers aren't occupying the upper floors, says Safarik. China's new city dwellers are living in "30- or 40-story cookie-cutter towers that are providing a justification for the tall or supertall office buildings or mixed-use structures we're seeing," he says.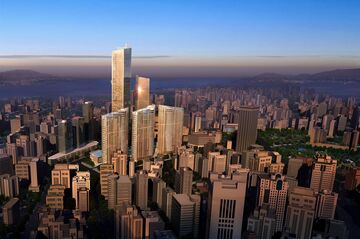 Safarik predicts a different kind of future for tall buildings in North America. The continent claimed 79 of the world's 100 tallest buildings in 1990—and just 20 of the tallest 100 today. (In the U.S., developers completed three 200-meter-plus buildings last year, down from seven in both 2009 and 2010.) One day, it seems, North America will barely register in a discussion of the world's tallest buildings. "I think we're going to see fewer of these iconic standalones," Safarik says, "and more structures that are integrated into their urban environments. More skyscrapers that are connected horizontally at height."
Before it's here, it's on the Bloomberg Terminal.
LEARN MORE