Kurobuta London Is More Than a Rock 'n' Roll Nobu: Review
By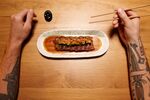 A restaurateur friend told me last year that he likes to turn up the volume (and turn down the lighting) in the evenings at a venue where he wants to attract a young crowd.

He's not alone in such aural cleansing. London restaurants are increasingly following their New York counterparts in playing music so loud that we old folk ask for our bill—using sign language—and head home to our pipe and slippers.
Kurobuta is a good example. The room is split into two sides. To the left, the driving rock/grunge is loud. To the right, it is louder. I'm only going to say this once, so please listen carefully: It's worth the ear-ache. Do you hear me?
This Marble Arch restaurant is based on the izakaya inns of Japan and started as a pop-up in Chelsea. (There are now two branches.) It is the creation of Scott Hallsworth, an Australian who was formerly head chef at Nobu.
Nobu's DNA is all over it. A crime scene examiner would have a match within seconds of spotting a dish such as baby shrimp tempura with spicy mayo and warm ponzu dipping sauces. The shrimp—too big and juicy to be babies—are served on crispy noodles. They are so sweet and soft it would be cruel to pass them by.
Best of all, they cost 10 pounds ($15.18) compared with 19 pounds (with all the sauces) at Nobu. This is no criticism of Nobu, which has a much longer menu than Kurobuta's and is an international pioneer in accessible Japanese cuisine. But it is great to have somewhere that is cheaper and more rock 'n' roll.
Beyond Nobu
Kurobuta isn't just a copycat. Hallsworth has thrown his own creativity into the mix. Take tuna sashimi pizza with truffle ponzu, red onions, and green chilis on a crispy base (10 pounds). It's an original must even for those who are over tuna.
The Kurobuta fried chicken is a KFC for 2015, its dark and crunchy coating encasing the moistest of birds.

Ignoring repeated attempts to persuade me to order sticky miso grilled aubergine with candied walnuts—there's something about the texture of aubergine I don't like—I nodded in the direction of healthy eating with grilled mushrooms. They are served on a hoba (magnolia) leaf with gorgonzola, miso, and pinenuts.

This dish has so much flavor, you might pass up on more meat dishes. I don't. The BBQ pork belly in steamed buns with spicy peanut soy is too much temptation. And it was only polite to order some sushi. The soft-shell crab maki with kimchee mayo takes care of that satisfactorily.
Service With Swagger

The other big plus—apart from the food—is the service, which is much better than you might expect. The young waiters are not just friendly. (Who needs more friends? A January cull might be in order.) They are also well-informed and appear to be enjoying themselves—but not too much. They are attentive and happy to offer advice.
Throw in a couple of beers—a slushy frozen Kirin is a specialty—and some wine and you are looking at about 60 pounds for a blowout meal. It's not cheap, but it is value.
So there you have it. While Kurobuta sounds (and looks) like it might be too cool for school, it's not. It swaggers and struts but the service is charming. And while the restaurant is loud, the food has its own voice. It is whispering two words.
Eat me.
Kurobuta Marble Arch is at 17-20 Kendal Street, W2 2AW; +44-0203-475-4158 or kurobuta-london.com

(Richard Vines is the chief food critic for Bloomberg. Follow him on Twitter @richardvines)
Before it's here, it's on the Bloomberg Terminal.
LEARN MORE