Kaisa Said to Be Probed on Ties to Official Under Investigation
Bloomberg News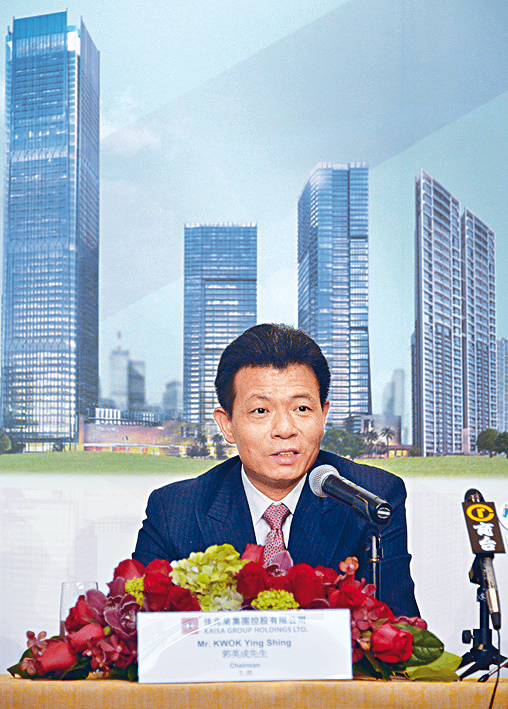 Kaisa Group Holdings Ltd. is being investigated by the Chinese government about links to a senior official in the city of Shenzhen who's under a probe, according to two people familiar with the matter.
Kaisa, which last week became the first Chinese developer to miss a coupon payment on international debt, had dealings with Jiang Zunyu, who's been investigated since October, said the people, who asked not to be identified because they aren't authorized to speak publicly. Jiang had served as party chief of Longgang district, where some approval procedures for Kaisa developments were suspended last month.
"Probes into corrupted officials are always found with links to business people, because the powerful and the rich are so intertwined in China." Zhuang Deshui, a professor on anti-corruption at Peking University, said by phone.
Some 75,000 officials have been investigated by the Central Commission for Discipline Inspection since President Xi Jinping took power in 2012, promising to strike "tigers and flies at the same time." The private sector has been dragged into investigations and last week the chairman of Peking University Founder Group Corp. was held for questioning as its bank accounts were frozen, prompting international investors to question which other companies could be involved in graft probes.
"There has always been some concern about transparency and this doesn't help," Rohit Gadkar, an emerging markets money manager in Barcelona at Trea Capital Partners SV, which oversees about 1 billion euros ($1.2 billion) of assets, said in an e-mail interview yesterday. His fund doesn't own Kaisa bonds. "People got caught off-guard with Kaisa."
Executives Gone
Jiang is under investigation for graft, state-run Xinhua News Agency reported in October, citing Shenzhen's provincial discipline watchdog. He'd been a member of the standing committee of the Communist Party of China Shenzhen Committee and secretary of the city's CPC committee of political and law affairs since January 2013, Xinhua said.
Kaisa's Chairman Kwok Ying Shing resigned Dec. 31, triggering a default on a HK$400 million ($51.6 million) loan from HSBC Holdings Plc. The lender yesterday issued a waiver in respect of the breach. Chief Financial Officer Cheung Hung Kwong and Vice Chairman Tam Lai Ling also quit last month.
News Kaisa's immediate cash demands have been reduced as the company seeks to restructure its debt helped push its 2020 dollar bonds up 6.6 cents, the most on record, to 40.6 cents on the dollar, the highest in a week, Bloomberg-compiled prices show.
Last week, Kaisa missed a $23 million interest payment on the $500 million of 10.25 percent bonds, it said in a Jan. 12 statement. The company has been silent about the reasons for the departures or whereabouts of executives that quit and is now seeking a restructuring adviser.
House Arrest
Kaisa's media relations department didn't respond to calls and e-mailed questions about the Jiang investigation. The Shenzhen city government's media department referred questions and a request for contact information for Jiang or a legal representative to its foreign media office, which didn't answer three phone calls.
Kaisa's 2020 notes, sold to investors at par, or 100 cents on the dollar in January 2013, dropped as low as 30 cents on the dollar last week following the company's missed payment.
Some 31 financial institutions had filed petitions to have Kaisa's assets frozen as of Jan. 12, court records showed. "Several bank accounts" with a total balance of 713 million yuan ($115 million) were frozen and under investigation, Kaisa said in a stock exchange filing that day.
Kaisa's investigation follows the release of Chen Zhuolin, the founder and Chairman of Agile Property Holdings Ltd., who resumed duties last month after being under house arrest in the southern city of Kunming since Sept. 30, company filings show.
'Greater Risk'
On Oct. 17, Kaisa issued a statement denying Internet rumors that Chairman Kwok was missing and unreachable. One week later, the government said Jiang Zunyu was under investigation.
"For real estate companies, the nature of their business entails frequent interactions with local government officials," CreditSights Inc. Singapore-based analysts Sandra Chow and Cheong Yin Chin wrote in a Jan. 13 report. "This places them at greater risk of being intertwined in alleged bribery probes."
The spotlight shone on Guangdong province in June when Wan Qingliang, a former member of the Standing Committee of the Guangdong Provincial Party Committee, was dismissed for violation of Party discipline and accepting bribes, CreditSights said. "In general, we would view government links supportive for credit quality but this may not always be the case."
International investors are requiring a greater political risk premium to hold high-yield bonds from China amid concern graft probes may make it more difficult for other developers to repay the money they owe. Kaisa's loan default and the uncertainty around its reasons have pushed junk bond costs to a two-year high in Asia.
"Obviously, it's not good for sentiment when something like this happens," Trea Capital's Gadkar said. He wasn't sure how much of Kaisa's problems were tied to China's anti-corruption drive, "but clearly they want to make examples."
— With assistance by Christopher Langner, and Keith Zhai
Before it's here, it's on the Bloomberg Terminal.
LEARN MORE