Fiat Chrysler to Spend $2 Billion on New Minivan Development
Mark Clothier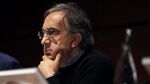 Fiat Chrysler Automobiles NV is spending about $2 billion to develop and engineer its next minivan and retool its factory in Windsor, Ontario, after dropping a request for federal Canadian funding for the plant last year.
The Chrysler van may be unveiled at next year's North American International Auto Show in Detroit, Chief Executive Officer Sergio Marchionne said yesterday to reporters. The figure includes platform investment, plant-specific funding and engineering and development costs, Marchionne said.
"It is my sincere hope that you'll see it here on the stand next year," Marchionne said.
Fiat Chrysler abandoned a request last year for provincial and federal Canadian funding to develop the new minivans and other models, saying it would escape political interference by using its own money. The automaker's Town & Country was the top-selling minivan in the U.S. last year, with sales increasing 13 percent to 138,040. The new model will probably keep the Town & Country name, Marchionne said.
The plant will shut down for 90 days starting in February to retool and start building the new minivan in the first quarter of 2016, Reid Bigland, Fiat Chrysler's head of sales, said to reporters at an auto show briefing last week.
The Dodge Caravan, which will cease production next year, placed second last year with 134,152 deliveries. Toyota Motor Corp.'s Sienna and Honda Motor Co.'s Odyssey ranked third and fourth, according to researcher Autodata Corp.
Before it's here, it's on the Bloomberg Terminal.
LEARN MORE