UN Envoy Power Visits McConnell's Kentucky Seeking Senate Accord
Sangwon Yoon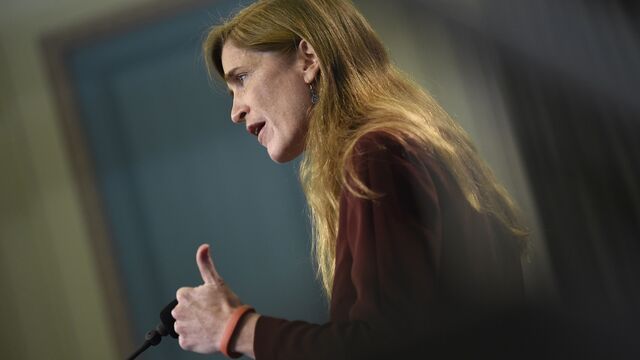 U.S. Ambassador to the United Nations Samantha Power traveled to Kentucky, new Senate Majority Leader Mitch McConnell's home state, to seek his help on lifting the trade embargo against Cuba and dissuading Congress from ordering new Iran sanctions amid nuclear talks.
While Republican McConnell made no public commitments on either point, their joint appearance today at his alma mater, the University of Louisville, produced an outside-the-Beltway exercise in bridging what Power called "disputes about means, not ends; about tactics, not objectives."
Power, the top U.S. diplomat at the UN, emphasized bipartisan agreement in Washington in fighting Ebola and terrorism and encouraging the transition from dictatorship in Myanmar, and she highlighted McConnell's role in lifting sanctions against that nation in 2012. She argued that advancing human rights in Cuba and ending Iran's nuclear ambitions should be no different.
With Republicans now controlling the Senate as well as the House, President Barack Obama is seeking room to maneuver on his foreign policy goals in his final two years as president.
Continuing the trade embargo against Cuba would serve as "the most trusted alibi" for the Castro regime to maintain its repressive rule, Power said. After Obama announced last month that he would restore diplomatic relations with Cuba, Republicans in Congress said they had no intention of ending the embargo.
New sanctions against Iran would give the Islamic Republic a reason to blame the U.S. for sabotaging world powers' negotiations on Iran's nuclear program, she said.
Blaming the U.S.
"Imposing new sanctions now will almost certainly end a negotiations process that has not only frozen the advance of Iran's nuclear program, but that could lead us to an understanding that would give us confidence in its exclusively peaceful nature," she said. "Iran would be able to blame the U.S. for sabotaging the negotiations and causing the collapse of the process."
A McConnell deputy, Don Stewart, said in November that McConnell was supportive of a bill imposing additional oil export and other sanctions on Iran.
Power quoted McConnell's undergraduate thesis on the "marvelous combination of compromise and principle" of Kentucky politician Henry Clay, in making her plea for the U.S. to stop getting "so bogged down in political divisions."
She spoke at the university's McConnell Center, which was founded by the Kentucky senator in 1991. Power had a private dinner with McConnell yesterday to discuss the points laid out in today's speech, an administration official said.
McConnell, who was one of 34 Republican senators who voted in favor of confirming Power as UN ambassador, introduced her today by invoking her past careers as a journalist, professor and "now as a diplomat."
When a member of the audience asked Power to list top U.S. allies, she joked that she would -- diplomatically -- dodge the question.
"I mean look, in the Middle East Israel is our strongest ally in the region, the only democracy in the region," she said, adding that U.S. also works closely with Jordan and Egypt in the Middle East.
Before it's here, it's on the Bloomberg Terminal.
LEARN MORE