How Did Everyone Get Addicted to Trivia Crack?
The app has millions of Americans hooked
by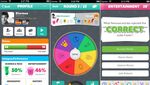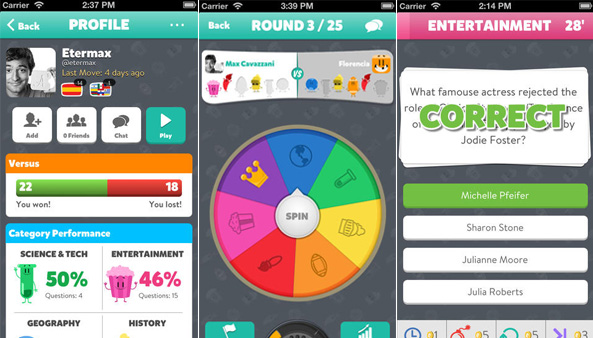 How's this for an exciting new game: Players spin a wheel and land on a category like history or sports. They spin again if they get a multiple-choice question right within 25 seconds and lose their turn if they're wrong. Whoever answers the most questions correctly across six categories first wins.
Its not exactly groundbreaking, but that game—an app called Trivia Crack—has millions of Americans addicted. Trivia Crack has raced past giant apps such as Facebook Messenger, Candy Crush Saga, and Instagram to claim the No. 1 spot for free apps in the U.S. and has held it for more than a month. User reviews of the app, and an embarrassing amount of personal experience (1,202 questions answered correctly), suggest the app creates the kind of dependency its name implies. As one player tweeted recently, "I seriously wonder how many people #TriviaCrack [have] gotten fired since it became such a fad #triviacrackprobs."
So where did this thing come from?
Trivia Crack was already the No. 1 free app download in more than 20 countries before reaching the U.S. It's the fifth-most played mobile game in the world, according to its 29-year-old creator, Maximo Cavazanni, who founded game developer Etermax in 2009. In Latin America, where it was the most downloaded free app last year, Trivia Crack is on one of every eight smartphones. Cavazanni parlayed the app's success into a hit TV game show in Argentina and has negotiations for more shows ongoing in Colombia, Brazil, and Mexico. There's even a line of merchandise featuring the game's colorful icons on everything from kid's sneakers, to rulers, to iPhone covers.
The game didn't take off in the U.S. until this past December, when it was listed as one of the best iPhone games of 2014 by Google Play and the App Store. Part of the reason for its popularity, says Marcos Sanchez, a vice president at analytics firm App Annie, is that it achieves the tricky balance between being complex enough to be challenging and simple enough not to be frustrating. The game is also tailored to each country—all 1 million questions and counting are crowdsourced using the in-app "question factory," and users in a given region play with questions created nearby or translated into the local language by other players. Players can give questions a thumbs up or thumbs down and report errors as they go.
That stream of user-generated content is the most important part of the app, says Cavazanni. Trivia Crack is also laden with social components, including the ability to play against Facebook friends and partake in live chat as they compete. Making that function as good as a dedicated messaging app keeps players from exiting the game to continue conversations, he says.
While the 13 million-plus users in the U.S. are a small fraction of the 85 million users worldwide, the U.S. is a top three market for revenue and among the top four for downloads, according to App Annie's Sanchez. Etermax says the game, available for iPhone/iPad, Android, Windows Phone, and Facebook, gets more than 700,000 daily downloads in the U.S.
Half of Trivia Crack's revenue comes from in-app purchases (coins for more spins, say) and half from ads, which are mostly for other video games, says Cavazanni. Among those are "Game of War: Fire Age," a real-time strategy game in which users compete to become the King of an empire. Those ads, some featuring Upton in a tight, low-cut gown galloping across a battlefield on a horse, might be one of the game's few downsides—and have earned the scorn of many players online. "Ok #TriviaCrack, after all these ads, I now know where all of Kate Upton's cleavage freckles are," noted one player on Twitter. "It would be really nice to be able to play trivia crack without having to see Kate Upton's tatas after every turn," added another. That irritating ad, and all the others, can be eliminated for a $2.99 fee.
A second release of the game is due out midyear, and it's taking a page from a familiar social network. Players will be able to create their own categories, or mini-Trivia Crack games, that other players can follow. "It's more like […] Twitter, where you can have your own account and content," says Cavazanni. "This would be the same, but instead of seeing your [Twitter stream], people would just play with your questions." 
Before it's here, it's on the Bloomberg Terminal.
LEARN MORE