Ryan Seacrest Rocked a Vintage Rolex Daytona at the Golden Globes
By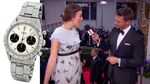 Award shows are prime time for product placement. The ubiquitous question "Who are you wearing?" is an invitation to buzz market everything from gowns to gems to tuxes, with each celeb strolling down the red carpet like a walking billboard. That's why it was so surprising to see E! Red Carpet host Ryan Seacrest wearing a beautiful vintage Rolex Daytona while he schmoozed with the nominees before last night's Golden Globe Awards.
Seacrest's wrist was probably the most valuable watch real estate of the evening and his well-tailored tuxedo cuffs put his vintage Daytona front and center. It was impossible not to see it -- unlike George Clooney's beautiful white gold Omega, which sadly didn't get much screen time. The Daytona he wore is a reference 6239, an early incarnation of the classic chronograph likely dating to the late 1960s. We'll skip the really nerdy stuff (and boy can the world of vintage Daytonas get nerdy), but the steel bezel and simple pump pushers are dead giveaways for the 6239. Not everyone could get away with wearing a chronograph with formalwear, but the watch's smaller size and Seacrest's laid back attitude make a good case for breaking the rules.
Seacrest has been spotted in the past wearing more modern watches, most notably a large Panerai on a black rubber strap that he wears when off duty, but we've never caught him in anything vintage before. Whether this is the result of some friendly competition with celebrity watch collector friend Adam Levine is anyone's guess, but hats off to Seacrest for passing on the sponsorship check and wearing his own watch.
Before it's here, it's on the Bloomberg Terminal.
LEARN MORE