Nigerian Islamists Push Girls to Become Suicide Bombers
Mustapha Muhammad and Chris Kay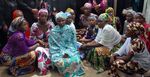 Last month 13-year-old Zaharau Babangida refused to set off explosives she was carrying after being sent by her father to camps run by the Nigerian Islamist militant group Boko Haram.
Babangida was arrested by police on Dec. 10 after two other female bombers killed at least six people at a textile market in northern Nigeria's largest city Kano. She agreed to travel from Bauchi to Kano after the militants "pointed at a ditch and told me that I am going to be killed there" if she refused.
"The members asked me if I wanted to commit a suicide bombing and that if I did I will enter paradise," said Babangida, who was wearing the flowing religious garment that covers the body from head to feet, known as the hijab, as she was paraded in front of reporters on Dec. 24.
Young girls are being increasingly coerced into suicide attacks in the predominately Muslim north as Boko Haram evolves tactics in its six-year campaign to bring Islamist rule to Africa's largest economy. In the past week, a girl as young as 10 set off explosives at a market in the northeastern city of Maiduguri killing at least 20.
Two others detonated bombs near a mobile-phone market in the town of Potiskum, killing at least seven and injuring 48 people, Yobe state Governor Ibrahim Gaidam said in e-mailed statement sent by his office.
Security Scrutiny
Women wearing the hijab were already facing heightened security scrutiny across northern Nigeria after a spate of Boko Haram suicide bombings attributed to similarly clad attackers.
"Boko Haram relies upon women and children to carry out suicide bombings because they can easily and effectively infiltrate crowded urban environments and bypass security checkpoints without arousing suspicion," said Malte Liewerscheidt, senior Africa analyst at Bath, England-based risk consultancy Verisk Maplecroft. "It highlights the ability of Boko Haram to access, indoctrinate and utilize all elements of society."
Nigeria, home to Africa's biggest oil industry and population, is heading toward general elections next month in the face of worsening violence in the north. Both President Goodluck Jonathan, 57, and main opposition candidate and former military ruler Muhammadu Buhari, 72, have pledged to stop the insurgency, which has killed more than 13,000 people since 2009, according to the government.
"It is very shocking for someone to take a child that they bore as her biological father and recruit her to commit suicide," said Muhammad Faruk, a 33-year-old bus driver and resident of Potiskum. "The question is: where do they get them?"
Chibok Kidnappings
Boko Haram, whose name roughly translates to "Western education is a sin," has stepped up kidnappings since it seized more than 200 schoolgirls from the northeastern town of Chibok in April, drawing international condemnation.
Another 191 people were abducted last month in the remote village of Gumsuri, the group's largest mass kidnapping since Chibok. Many of the girls have probably been brainwashed by the militants into committing the attacks, Bawa Abdullahi Wase, a security analyst and associate at the Network for Justice, said by phone from the capital, Abuja.
"The reported youthfulness of several of the purported suicide bombers suggests that they were selected from Boko Haram's pool of kidnap victims and coerced into carrying out the above mentioned attacks," Poole, U.K.-based security consultancy Drum Cussac said in an e-mailed report. The bombings in Maiduguri and Potiskum "underscored the militants' sustained intent and capacity to cause a maximum of civilian casualties in terrorist attacks," it said.
Electoral Challenge
Jonathan's ruling People's Democratic Party faces what may be its stiffest challenge since it came to power at the end of military rule in 1999 after three of the biggest opposition parties merged last year to form the All Progressives Congress.
The APC has attacked Jonathan's record on security claiming it as evidence that his government has failed. United Nations Secretary-General Ban Ki-moon expressed outrage at attacks last week in the northeastern Nigerian town of Baga near the border with Chad.
Reports that as many as 2,000 people died in the assaults on Baga are unfounded, Nigeria's military said yesterday. Initial evidence, including aerial surveillance, shows the death toll didn't exceed 150, according to the nation's Defence Headquarters.
"The proliferation of violence in the pre-election period is leaving the Nigerian security forces spread too thin," said Liewerscheidt. "There is little doubt that the government and the military have effectively lost control over large swathes of northeast Nigeria."
Before it's here, it's on the Bloomberg Terminal.
LEARN MORE