Napolitano Meets Renzi as Italian President Seen Resigning Soon
Lorenzo Totaro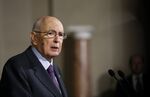 Italian President Giorgio Napolitano met with Prime Minister Matteo Renzi as two of the country's daily newspapers said the head of state's resignation may be announced within the next two days.
The meeting took place in the 89-year-old president's Quirinale Palace residence today in Rome, his office said by e-mail.
Turin-based La Stampa and Rome-based Il Messaggero both reported that Napolitano will step down on Jan. 14, without saying where they got the information. The president will notify his decision to the speaker of parliament's lower house, who will have then as many as 14 days to call the over 1,000-strong presidential college for a vote to choose a successor. Earlier today, the head of state met with Parliamentary Affairs Minister Maria Elena Boschi, Napolitano's office said.
In his New Year's Eve televised speech, Napolitano had said that he planned to resign "soon," putting an end to his second presidential term that started in April 2013.
Support among Italians for Napolitano was at 39 percent this month, the same as in September 2014, according to a poll by Ixe institute. Support for Renzi, who turned 40 yesterday, was down to 37 percent from 50 percent in September, according to the poll based on 1,000 interviews conducted on Jan. 7.
Before it's here, it's on the Bloomberg Terminal.
LEARN MORE