Mitt and Ann Romney Were All About Jeb Bush, Until They Weren't
The story of the last year in the lives of the Romneys has more plot twists than a Gillian Flynn novel.
By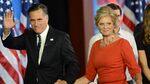 Mitt and Ann Romney could co-author a mystery bestseller. Over the past year, the couple has mastered the art of delivering dialog that seems to mean one thing, but, in hindsight, turns out to have meant the opposite.