Mercedes Swipes at BMW With Plug-In Hybrid C-Class Sedan
Dorothee Tschampa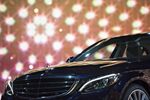 Mercedes-Benz is putting a plug-in hybrid drivetrain into a luxury mid-size sedan for the first time in an effort to outflank BMW AG's 3-Series on fuel efficiency.
Mercedes's best-selling C-Class will get plug-in technology first made available last year in the company's aristocratic S-Class. After a debut this week at the Detroit motor show, the newest C-Class is scheduled to go on sale in Europe in March and reach the U.S. in September.
Staying abreast of new technology is part of the Daimler AG unit's strategy for winning back buyers from BMW, the world's biggest luxury-car manufacturer since 2005, and second-ranked Audi AG. Mercedes plans to bring out 10 plug-in models by 2017, or an average of one every four months, to meet tightening carbon-dioxide emissions rules and combat Tesla Motors Inc.'s success among environmentally conscious customers.
"It's an important signal that Mercedes is working at the forefront of the latest technology," said Ferdinand Dudenhoeffer, director of the Center for Automotive Research at the University of Duisburg-Essen.
In that sense, the new C-Class's importance will probably outweigh its sales. With oil prices starting this year at the lowest since mid-2009, Dudenhoeffer said he expects low volume for plug-in hybrids. "The vehicles are relatively expensive because of the two motors, and carry extra weight."
Battery Power
The C-Class can drive for 31 kilometers (19 miles) on battery power alone, and the electric motor can add power to the combustion engine when the car is passing another vehicle. The model is already available with a diesel-hybrid drivetrain in Germany. The bigger S-Class plug-in hybrid will be sold in California starting in May.
Volkswagen AG's Audi division started deliveries of the 37,900-euro ($45,580) A3 E-Tron plug-in hybrid compact at the end of last year. The carmaker wants to add a model using the technology to its line-up annually, including a version of the Q7 sport-utility vehicle in 2015.
Plug-in technology combines a gasoline engine with an electric motor and battery pack that can be charged on a household socket. The external battery charging makes emission-free driving possible for longer distances than with conventional hybrids.
Plug-In Prototype
BMW already sells a conventional hybrid version of its 3-Series. In December, it showed a prototype of a plug-in version that can travel about 35 kilometers on battery power. The Munich-based manufacturer said it's offering the technology, based on the i3 city car and i8 plug-in hybrid supercar, throughout the BMW model range, without specifying a timeframe.
Loading the new Mercedes C-Class, introduced with a conventional combustion engine last year, with features from the S-Class has been part of the Stuttgart-based carmaker's effort to win younger customers and reduce the brand's reputation of producing stodgy autos for older men.
A 211-horsepower four-cylinder engine combined with an electric motor gives the plug-in C-Class fuel consumption of 2.1 liters per 100 kilometers (112 miles per U.S. gallon) or 48 grams of CO2 per kilometer. The lithium-ion battery pack, which weighs about 100 kilograms (220 pounds), is stowed above the rear axle to enable better car handling and to prevent damage in an accident, such as instances of fires reported in crashes involving the Tesla Model S.
To extend battery range, drivers can pre-heat or cool down the vehicle remotely with a mobile-device before starting a trip. The application also includes information on the charging status of the battery and the driving range.
The plug-in technology will also be introduced in the revamped M-Class SUV, which is being rebadged as the GLE this year, and the next E-Class sedan in 2016.
Before it's here, it's on the Bloomberg Terminal.
LEARN MORE