Kim Jong Un Hates This Judge: Michael Kirby on the Dictator's Future
Michael Kirby, a retired judge from Australia, did more than The Interview to make the North Korean leader miserable last year
by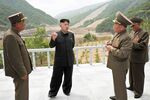 North Korea's Kim Jong Un ended the year on a roll, with the humiliation of Sony and the third anniversary of his rise to power. Getting in the way of Young Kim's victory lap, however, were some embarrassing defeats at the United Nations, where the Security Council took the unprecedented step of debating his country's abysmal human rights record.  The debate, which North Korea boycotted, followed an overwhelming General Assembly vote against Kim, with 116 members in favor of a resolution urging the International Criminal Court take up his prosecution.
The man largely responsible for the increased focus on North Korean human rights abuses is Michael Kirby, a retired judge from Australia who led the UN's Commission of Inquiry that compiled a damning 400-page report on the regime's gulag, where prisoners accused of high crimes such as trying to leave the country are subject to torture and starvation. Kirby, 75, said in an interview that he hasn't seen the Seth Rogen-James Franco movie The Interview and isn't much impressed with mockery as a weapon against the Stalinist country. "North Korea is not a source of entertainment," he said. "This is not a joke." He calls the hacking controversy "a distraction from the very serious and prolonged human rights abuses collected in the U.N. report."
Long before North Korean-backed hackers allegedly revealed all of Sony's secrets, Kirby knew what it was like to be the object of the regime's outrage. The former high court justice, who spent 34 years as a jurist before retiring in 2009, was the UN's special representative on human rights for Cambodia and served as the president of the International Commission of Jurists from 1995 to 1998. He's also gay—a detail that was too much for the North Korean media: In an April 22 commentary, the Korean Central News Agency called Kirby "a disgusting old lecher with a 40-odd-year-long career of homosexuality." The Democratic People's Republic of Korea, with its "sound mentality and good morals," has no gay people, the agency added, and "it is ridiculous for such gay [sic] to sponsor dealing with others' human rights issues."
That North Korea should resort to homophobic taunting isn't surprising. This is the government, after all, that has called the first African American president of the U.S. a "monkey." Yet Kirby says North Korean officials were never rude to him in person, and anyone trying to promote human rights must have a thick skin. "Although the comment was homophobic, it was far from the worst examples of such attitudes that exist in the world today," he said. The proper response "is to take advice, follow prudent precautions, and get on with one's job in a professional and independent manner. Ultimately, this is the way that homophobic stereotypes that still exist in many countries will be overcome by people who happened to be LGBT or from other minorities."
Kirby has no illusions that the UN breakthrough will lead to a speedy improvement in the human-rights situation in the north, but he remains hopeful about the potential for some change. In an effort to avoid defeat at the General Assembly, Kim's representatives did try to engage with the UN Human Rights Council. That ended once the overwhelming majority of member nations voted against North Korea. But to Kirby it shows "that given favorable circumstances, North Korea can participate, and it should be encouraged to do so." He is also hopeful diplomats can encourage more people-to-people contacts across the DMZ. "I can't think of a single reason the dentists of North Korea should not meet the dentists of South Korea," Kirby said. "Perhaps you wouldn't have lawyers meeting, but dentists, doctors, nurses, and others should be able to meet together and share common problems and learn from each other."
Even though the Commission of Inquiry's work is done, Kirby expects to stay busy and keep the world from forgetting about the North Korean human-rights crisis. And while Security Council rules prevented North Korea's allies, China and Russia, from exercising their veto power to prevent debate about the country's human-rights record, the two permanent members can protect Kim from further consequences. Still, Kirby doesn't think Kim should get too complacent: "I am sure the Nazi leaders didn't expect they would end up in the dock in Nuremberg," Kirby said. "But they did."
Before it's here, it's on the Bloomberg Terminal.
LEARN MORE