Razor-Thin Sovereign Bond Yields Get Even Slimmer on Oil
Paul Dobson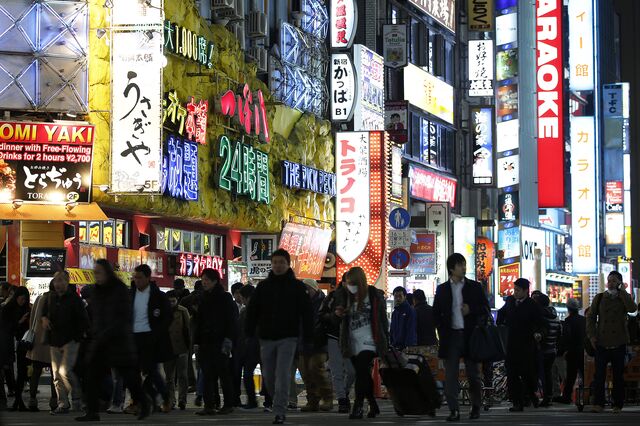 Government bond yields have never been lower. Yet to traders watching oil's slump drag down inflation and push up debt prices, the securities are still a bargain.
The sovereign rally pushed yields on five-year bonds in Japan today to zero for the first time. Australian and U.K. rates fell to records, and those on the 30-year Treasury were just a few basis points above an all-time low.
"It's all about oil," said Ali Jalai, a bond trader at Bank of Nova Scotia in Singapore. "Inflation expectations keep coming down. That's forcing the bond market to rally."
Investors see crude oil's 60 percent drop since June and a slump in commodities such as copper pushing the global economy into a deflationary spiral that will hinder investment and growth. That's a buy signal for traders in the $100 trillion bond market, who see evidence almost every day that consumer-price declines keep coming.
Britain said today its inflation rate fell to the lowest since 2000. Oil's decline is making it increasingly uncertain whether the Bank of Japan will reach its 2 percent inflation target in the coming fiscal year, said people familiar with the central bank's discussions.
The dwindling borrowing costs are giving governments a leg up in managing their debt loads. Investors bought 2.85 billion euros ($3.4 billion) of three-year Dutch notes today at an average yield of minus 0.034 percent. In other words, the euro area's fifth-biggest economy will repay 100,000 euros in April 2018 for each 100,110 euros it received today.
Portugal, shut out of bond sales in the earlier part of the decade, sold 2 billion euros of 30-year debt as well as 3.5 billion euros of 10-year securities, according to a person familiar with the matter, who is not authorized to speak publicly and asked not to be identified. Germany set the coupon it will pay on new 2025 bunds being auctioned tomorrow at 0.5 percent.
Real Yields
With the Bloomberg Commodity Index at its lowest level since 2002, the outlook for consumer prices is cooling. That's good for bonds, because it preserves the value of fixed-income investments. A report last week showed consumer prices in the euro area fell an annualized 0.2 percent in December. Taking that into account would push the so-called real yield on the Dutch three-year, zero-coupon notes sold today up to 0.166 percent.
Tumbling commodity costs -- which can cheapen everything from building materials to electricity produced from burning natural gas -- is narrowing the market outlook for future inflation. The euro area's five-year, five-year forward inflation-swap rate, which reflects bets on consumer-price gains in the second half of the next decade, fell two basis points to 1.48 percent today, set for the lowest close since at least 2004. A 30-year inflation-swap rate declined to 1.63 percent, also bound for the lowest close since 2004.
Central Banks
In the U.K., a bond-market gauge of the inflation outlook over the next decade touched the lowest in more than two years. A comparable measure in the U.S., the difference between yields on 10-year Treasuries and similar-maturity Treasury Inflation Protected Securities, which gauges expectations for consumer prices, fell to the least since 2010.
A second boon for bond investors is that weaker inflation may prompt central banks to extend stimulus by keeping down borrowing costs.
The European Central Bank may make a decision on whether to start buying government debt, which may curb higher yields, as soon as its Jan. 22 meeting, Executive Board member Benoit Coeure was quoted as saying in an interview with Die Welt. The ECB lowered its deposit rate to minus 0.2 percent last year, meaning investors need to pay to park cash with the central bank overnight.
Japanese Record
The BOJ buys as much as 12 trillion yen ($101 billion) of debt a month, about equivalent to what the government issues in coupon-bearing securities.
The purchases are adding fuel to the rally in bonds. Japan's 10-year yield fell to a never-before-seen 0.255 percent and Australia's 10-year yield declined today to 2.603 percent, also its lowest level ever.
The effective yield on the Bank of America Merrill Lynch Global Broad Market Sovereign Plus Index dropped to 1.21 percent yesterday, a record low in data starting in 1996. It returned 3.1 percent in the three months ended yesterday.
"Inflation is slowing very sharply and the market is rightly anticipating, largely as a result of that, that the prospect of monetary tightening has disappeared over the horizon now," John Wraith, head of U.K. rates strategy at UBS Group AG in London, said about Britain's consumer-price report today. "It keeps yields declining."
Before it's here, it's on the Bloomberg Terminal.
LEARN MORE