Hyundai Tests 'Cute-Ute' Pickup for Young Buyers Who Shun Trucks
Jeff Green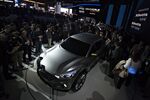 Hyundai Motor Co. is testing consumer reaction to a small pickup the South Korean automaker says is aimed at the majority of people who don't want a truck, particularly young urban consumers.
The Santa Cruz pickup prototype has been in development for 2 1/2 years and would be at least three years away from production if consumer reaction continues to be positive, Dave Zuchowski, president of Hyundai Motor America, told reporters. The model is based on the same chassis design as the Tucson sport-utility vehicle, he said. Small SUVs are sometimes called cute utes.
"We're not into ploughing the same old groove as everyone else," Zuchowski told reporters after the diminutive silver pickup was shown to reporters today at the North American International Auto Show in Detroit.
Smaller pickups are getting a fresh look in the U.S. as General Motors Co. adapted a design from markets outside the U.S. to create the new mid-size Colorado. Toyota Motor Corp., the market leader for smaller pickups, also showed a redesigned version of the Tacoma pickup today in Detroit.
The smaller Santa Cruz is aimed at buyers who can't afford the $40,000 cost of the average pickup, said Mike O'Brien, vice president of corporate and product planning for Hyundai Motor America. Because of the costs and other limitations, 80 percent of buyers won't consider a pickup, he said.
More Practical
As "urban adventurers" move back into U.S. cities, they are plagued by tighter parking and other restrictions that make larger pickups impractical, said Mark Dipko, director of corporate planning for Hyundai Motor America.
The all-wheel-drive prototype, which can hold five passengers, is designed to get fuel economy in the high 30 mpg range, Dipko said. The small pickup-style bed has a hard cover that encloses the cargo, Hyundai said.
Buyers under 30 represent just 7 percent of pickup customers, Dipko said. Clearly there are customers out there the current market is not serving, he said.
"It's a vehicle for the next frontier and the urban adventurers who are leading the way," he said.
Before it's here, it's on the Bloomberg Terminal.
LEARN MORE