Hollywood 'Spoiled Brats' Are Easy Targets at Golden Globes
Christopher Palmeri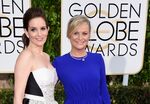 It didn't take long for Amy Poehler and Tina Fey to dish the latest Hollywood dirt.
The comics, co-hosts of the Golden Globe Awards, opened the show by greeting all the "despicable, spoiled, minimally talented brats" in attendance, riffing on producer Scott Rudin's remarks about actress Angelina Jolie in an e-mail leaked by hackers last month. The awards, handed out by the Hollywood Foreign Press Association, honor outstanding performances in film and TV.
"Tonight we celebrate all the television shows we know and love, as well as all the movies North Korea was OK with," Fey quipped.
The industry became an easy target for joke writers this year after cyber-terrorists hacked Sony Pictures, releasing thousands of e-mails in which executives wrote, sometimes unkindly, about the people with whom they work. The hacking, which the FBI has said bears hallmarks of North Korea, was presumed retribution for the Seth Rogen-James Franco comedy "The Interview" that depicts the fictional assassination of the country's leader.
"The biggest story in Hollywood this year was when North Korea threatened an attack if Sony Pictures released 'The Interview' -- forcing us all to pretend we wanted to see it," Poehler said.
Fey piped in: "North Korea referred to 'The Interview' as 'absolutely intolerable' and a wanton act of terror. Even more amazing: not the worst review the movie got."
Comedian Margaret Cho appeared in recurring skits as a North Korean general who was less than amused. "In North Korea we know how to put on a show -- this is not a show," she said. "You no have Dennis Rodman. No basketball at all."
Leaked E-Mails
The hacking exposed Sony Pictures co-Chairman Amy Pascal's e-mail banter with producer Rudin, which prompted them both to apologize publicly. Pascal last month was photographed receiving what the New York Daily News called a "stone-cold stare" from Jolie, the actress Rudin had called a "spoiled brat" in one exchange with Pascal.
The show set aside all jokes for a moment near the top of the show in a reverent reference to last week's terrorist attack against the Charlie Hebdo satirical newspaper in Paris. Theo Kingma, president of the Hollywood Foreign Press Association, received a standing ovation for his comments in defense of free speech.
The Sony hacking wasn't the only current event to incur barbs from the co-hosts. Poehler went after Bill Cosby, the comedian who has been accused by multiple women of serving them drug-laced beverages and sexually assaulting them, while referring to the film "Into the Woods," a musical mash-up of various Grimms fairy tales.
"Sleeping Beauty just thought she was getting coffee with Bill Cosby," Poehler said.
(An earlier version of this story contained an incorrect spelling for Tina Fey's name.)
Before it's here, it's on the Bloomberg Terminal.
LEARN MORE