Golf, F-150 Win North American Car, Truck of the Year Awards
Alexandra Mondalek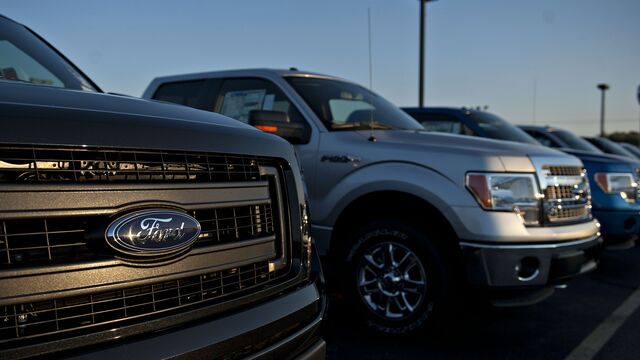 Volkswagen AG's Golf won North American Car of the Year, the company's first win in 16 years, and Ford Motor Co.'s aluminum-bodied F-150 pickup took the truck award.
The Golf has been a bright spot for VW in the U.S., where it was the only model in the brand's lineup to see sales increase last year. Golf sales more than doubled last month and rose 8.9 percent for the year to 33,675.
The jurors, a group of automotive journalists, considered several Golf models during the awards selection process, including its TSI, TDI, GTI and e-Golf models. The changes in this year's redesign are "much better and cost less," according to Karl Brauer, senior analyst at Kelley Blue Book. VW, which sold more than 10 million vehicles last year for the first time, hasn't won since the New Beetle took the prize in 1999.
Michelle Krebs, senior analyst at AutoTrader.com, said that she, like many of her peers, hadn't expected the German automaker to beat the Ford Mustang. While the win is a "feather in their cap," it's not enough to signal an immediate change in VW's western-hemisphere presence.
"They'll do better and the Golf will help, but they need a fuller line of vehicles including sport utility because that's where the market is," Krebs said.
Ford F-150
Ford's F-150 won the truck award for a fourth time, adding to victories in 1996, 2004 and 2009. The F-Series line has been America's best-selling truck for 38 years. The truck is the first mass-produced model to use aluminum so extensively, reducing the weight by as much as 700 pounds (318 kilograms) and giving it fuel-economy ratings as high as 26 miles (42 kilometers) per gallon.
It was no surprise that the F-150 beat the Chevrolet Colorado, especially considering Ford's "huge bet" in creating an aluminum-bodied truck, Krebs said.
"Going all the way with aluminum, I think that will signal a change for how we build trucks in the future," Krebs said. "It was a line in the sand."
VW fell 0.3 percent to 181.27 euros in Frankfurt trading. Ford rose 0.3 percent to $15.26 at 1:53 p.m. in New York.
Last year, Chevrolet swept the awards with its Corvette Stingray sports car and Silverado pickup. The awards, selected this year by a committee of 57 journalists, have been given out at the Detroit auto show since 1994. The other finalists for the car award were the Hyundai Genesis and Ford Mustang. The Lincoln MKC and Chevrolet Colorado were finalists for the truck honor.
(An earlier version of the story corrected the description of the F-150.)
Before it's here, it's on the Bloomberg Terminal.
LEARN MORE