Elizabeth Warren Takes Out an Obama Nominee
The Massachusetts senator scores a coup.
By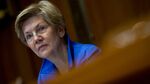 Over the weekend, Antonio Weiss asked not to be re-nominated for the job of Undersecretary of Domestic Finance at the Treasury Department. It was a major coup for the Senate Democrats who had opposed the nomination, led by Massachusetts Senator Elizabeth Warren, eventually including one-fifth of the caucus.
At the same time, pollster Peter Hart wrangled a 12-person focus group in Colorado, and both John Dickerson and Dan Balz were there to record it. They left with similar takes: Voters (well, twelve of them) recoiled at the thought of Clinton and Bush families fighting for the presidency, and voters were fairly warm to Massachusetts Senator Elizabeth Warren.
Both Dickerson and Balz focused on the experience of Susan Howard, an independent who had voted Republican in 2008 and 2012, but who liked Warren. And both reported that Howard carried student loan debt with a bigger monthly payment than her rent.
Howard's story goes a little bit further than that. As Hart said in an interview today, Howard is not a young college grad. She is 43. Her monthly student loan payment is $1300.
That stood out to Hart, he said, because "by and large Warren was not characterized in ideological terms. She was more defined on issues, as someone who people saw as fighting for them. A lot of times people glom on to what I call the 'shiny object.' You know: 'Gee, that person's interesting.' Rand Paul fell into that category. With Warren, what was unique was that they had some sense of who she was, who she was against, and who she was fighting for."
The voters who see Paul as "interesting" are paying close attention to the press. Politico dubbed him "the most interesting man in politics." Time dubbed him, yes, "the most interesting man in politics." Reason called Paul "the most interesting man in the Senate," but it got there first, in 2011.
Warren, by contrast, is usually identified as part of "the left." There's a reason for that. Her loudest political supporters, like the MoveOn and Democracy for America leaders who have organized a "Draft Warren" presidential committee, are on the left. Her theoretical constituency in a presidential primary, as measured in polls: The left.
But Hart's group had found more evidence that Warren's issues don't need to be identified with "the left" any more than opposition to, say, the war on drugs does. Three and a half years ago, when Warren pulled her name out of contention for leadership of the new Consumer Finance Protection Bureau, the Weekly Standard's Christopher Caldwell called her a "closet conservative" whose advocacy for middle class families was at home on the right. The "two-income trap" she identified, which could ruin families if some misfortune took out one of the earners, was something conservatives needed to worry about, too.
Progressives don't simply want to drive their party to the left. They worry that the party cedes populism to the right if it doesn't move to the left. They draw a straight line from the Democrats becoming the party of TARP in 2009 to the Tea Party becoming the preferred form of rebellion against "big banks." That could have been the left, argued Thomas Frank and Zephyr Teachout and a host of other progressives.
Warren's victory against Weiss may be covered as a victory by "the left." It could just as easily be covered as a victory against "the financial industry." One of those causes is more popular, and as Peter Hart's focus group found, it's the one voters identify as Warren's.