Elizabeth Warren Takes Out an Obama Nominee
The Massachusetts senator scores a coup.
By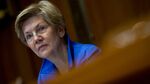 Over the weekend, Antonio Weiss asked not to be re-nominated for the job of Undersecretary of Domestic Finance at the Treasury Department. It was a major coup for the Senate Democrats who had opposed the nomination, led by Massachusetts Senator Elizabeth Warren, eventually including one-fifth of the caucus.