Are Independents Just Democrats and Republicans by Another Name?
A new Gallup finds a record number of independent. But don't expect a golden age of moderation any time soon.
Ali Elkin and Sasha Issenberg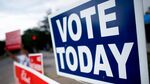 According to a Gallup poll out on Thursday, more Americans than ever—46 percent—self-identify as "independent." But before the trumpets are sounded for a new, free-thinking, gridlock-free world of unaffiliated, presumably moderate voters, it's important to parse what this might mean—especially given the deep divisions that still cleave the country.