Ambassador Plays Defense for American Leaders After Paris Rally
Jane Hartley says French leaders are grateful for U.S. support.
By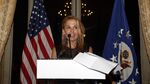 The absence of major American leaders at Sunday's march in Paris marking recent terrorism attacks has drawn sharp criticism, but the French were nonchalant about it—at least according to the U.S. ambassador.
Jane Hartley, who represented the U.S. at the march, told CNN Monday that the French "believe we have been unbelievably supportive." She said French President Francois Hollande had "thanked me for the U.S. cooperation and particularly thanked me for President Obama going to the French Embassy" in Washington on Thursday.
Plenty of heads of state did show up at the Paris rally, which along with similar events across France drew 3.7 million people. They included Israeli Prime Minister Benjamin Netanyahu, German Chancellor Angela Markel, King Abdullah of Jordan, and U.K. Prime Minister David Cameron, who will visit the U.S. later this week.
Attorney General Eric Holder was in Paris for a security conference but, according to the New York Times, did not attend the marches.
The lack of a bigger American presence has raised eyebrows. "I say this as an American—not as a journalist, not as a representative of CNN—but as an American: I was ashamed," wrote CNN anchor Jake Tapper on Monday.
Secretary of State John Kerry, who was in India on Sunday, said he will visit France later this week.
Elizabeth Wasserman contributed to this report.