Amazon's Golden Globes Win Puts TV Strategy in Spotlight
Christopher Palmeri, Spencer Soper and Lucas Shaw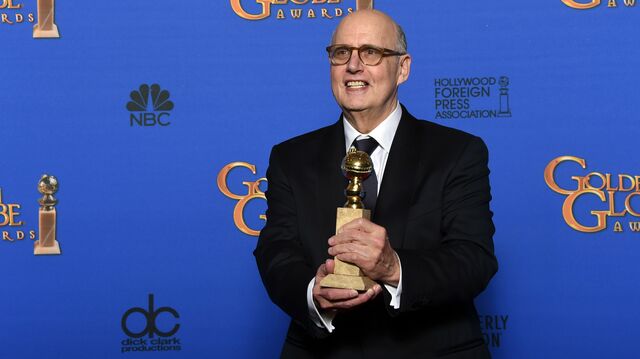 The Amazon.com Inc. original series "Transparent" picked up two Golden Globe Awards last night, beating rivals such as HBO and highlighting the progress the online retailer has made as a player in Hollywood.
The show, about a retired male professor who identifies as female, won for best TV series, musical or comedy, in a contest that pitted it against programs from HBO, the CW Network and Netflix Inc. Jeffrey Tambor, who plays the main character, also won for best actor in the category.
Tambor thanked Amazon and its head of comedy development, Joe Lewis, from the stage during the broadcast on NBC, while the show's creator, Jill Soloway, also acknowledged Amazon founder Jeff Bezos in her acceptance speech.
The awards will likely encourage the Seattle-based e-commerce company and other online entertainment networks to continue investing in original programming. Amazon could make video a stand-alone business instead of a benefit for members of its Prime shipping service, said Victor Anthony, an analyst at Topeka Capital Markets in New York, who rates the stock a buy.
"This is a shot in the arm for Amazon's original programming strategy as it validates Amazon as a legitimate programmer in the eyes of Hollywood and on Wall Street," he said in a telephone interview.
The win is a "thrilling dream come true" for the company and those involved in the show, Roy Price, director of Amazon's studio said in a statement. "We have a big 2015 planned and we are back at work making it happen," he said.
Kevin Spacey, who won best actor for his role in "House of Cards," which airs on online streaming service Netflix, said he expects more investment in original content from online providers like Amazon, Netflix and Hulu.
'Gazillion Dollars'
"I think that we are going to see in the next decade a lot more stepping forward, particularly companies that have made a gazillion dollars," he said.
Amazon, which introduced Amazon Studios in November 2010, plans to offer seven new shows on Jan. 15, including an hour-long drama from director Ridley Scott that envisions what would happen if the Allies lost World War II and another providing video interpretations of New Yorker magazine stories. In addition, six new shows for kids will be released.
The unit, based in Santa Monica, California, is headed by Price, the son of former Columbia Pictures chief Frank Price. The company has sought to differentiate itself from traditional TV networks by soliciting scripts online and asking viewers to vote on whether or not they like the initial episode.
Amazon's original programs are available for online viewing by customers of its Prime service, which costs $99 a year and also includes free, two-day shipping on products available on the website.
Free Shipping
The e-commerce company doesn't disclose how many customers pay for Prime. Analyst estimates range from 20 to 35 million, though many of those may not produce revenue because Amazon offers free membership promotions. Last month the company said tens of million customers had "tried" Prime over holidays.
Amazon's strategy follows that of HBO and Netflix, which have both invested in original programing to increase subscriptions to their video services.
"Netflix and HBO have both proven that original content can absolutely drive demand, if that content is compelling," said Sucharita Mulpuru, analyst at Forrester Research in Cambridge, Massachusetts. "Amazon seems to have hired great talent and they are taking a page from that same playbook."
Netflix Approach
Amazon doesn't release numbers on its programming investment and analysts question whether it will ultimately be profitable. Netflix, which has more than 53 million subscribers worldwide, has struggled to deliver stable earnings. Amazon's approach differs somewhat from rivals in that it funds show development on its own, rather than seeking partners to limit exposure, according to Michael Pachter, analyst at Wedbush Securities in Los Angeles, who estimates the company spent $200 million on original programming last year.
"Amazon has taken a lot of risk, and has funded all of its originals," Pachter said. "Amazon has only 'Transparent' to show for its efforts, with the rest of its originals flying below the radar. I think Netflix's strategy makes more business sense."
The company's strategy of only funding one episode of a new program could alienate some Hollywood talent looking for longer-term commitments, but for now many seem eager to work with Amazon.
Ben Silverman, the independent producer whose CW show "Jane the Virgin" lost to "Transparent" last night, said he expects to start shooting "Casanova," an historical drama for Amazon this year. Gina Rodriguez won best actress in a TV comedy or musical for "Jane the Virgin."
Amazon is committing to "tons" of shows, many of them based on edgy topics, such as "Transparent," Silverman said.
"They're in," he said.
Amazon fell 1.9 percent to $291.41 at the close in New York. The stock lost 22 percent in 2014.
Before it's here, it's on the Bloomberg Terminal.
LEARN MORE