The Candidate's Dilemma: Is it Worth Quitting Your Day Job to Run for President?
Sometimes, looking for a new job means losing the one you've got.
By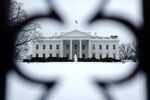 As the Republican presidential field takes shape, some likely candidates face a vexing decision: Whether it is worth giving up a current job in order to seek the one coveted by so many politicians.