Singapore Rate Spike to Weigh on Property Prices
Pooja Thakur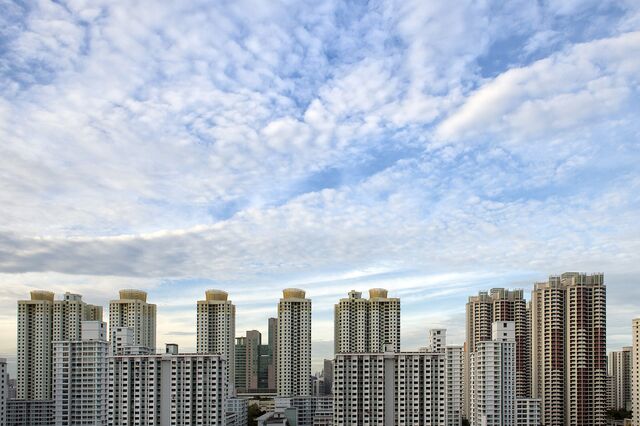 A sudden new-year jump in Singapore interest rates threatens to push up mortgage costs and steepen a slide in home prices.
The three-month Singapore interbank offered rate, against which most home loans are benchmarked, has risen 18 basis points to 0.6392 percent this year to the highest since April 2010, driven by a stronger U.S. dollar and new liquidity requirements for Singapore banks.
Short-term interest rates may head toward 1 percent this year as a resurgent U.S. economy could spur the U.S. Federal Reserve to raise borrowing costs, according to United Overseas Bank Ltd. and Maybank Kim Eng Research Pte. A stronger greenback is also making U.S. dollar-denominated debt raised by Singapore banks more expensive to service. The island, which has S$177 billion ($132 billion) of outstanding mortgage debt, posted a 4 percent drop in home prices last year.
Home prices may fall a further 10 percent by mid-2016, while short-term interest rates could top 1 percent this year, more than double the level in 2014, said Vishnu Varathan, an economist at Mizuho Bank Ltd. in Singapore. "About 30 percent to 40 percent of the price decline could come from the interest rate effect," he added.
Every percentage point increase in interbank rates raises repayments on a S$1 million property by 12 percent, assuming an 80 percent loan-to-value ratio and a 25-year loan duration, according to calculations by Maybank Kim Eng.
Government Curbs
Most Singapore lenders reset their variable mortgage rates every three months, so the full effect of the latest rate increase won't be felt until the second quarter.
Government measures imposed since 2009 to cool the property market will help cushion the effect of rate increases on borrowers, according to Varathan at Mizuho. The most stringent restriction, in effect since June 2013, prevents borrowers from taking on mortgages that push their total debt servicing costs above 60 percent of their income.
The curbs helped cool mortgage loan growth to 6.2 percent in November, the slowest pace since May 2007, data compiled by Bloomberg based on figures from the Monetary Authority of Singapore showed.
Outstanding housing loans with loan-to-value ratios above 80 percent fell from 17 percent in the third quarter of 2009 to 5 percent as of Sept. 30, according to the latest MAS financial stability survey.
Less than 0.5 percent of housing loans were non-performing, the MAS said, though it said "some highly leveraged households could be vulnerable should interest rates rise or the economy slow down."
Slow Rise
A sudden surge in short-term rates would be needed to cause real pain for Singapore borrowers, said Wee Siang Ng, Singapore-based head of research at Maybank Kim Eng Research.
The brokerage calculates that more borrowers could face total debt-servicing costs above 60 percent of their income, the level considered risky by the MAS, if short-term interbank rates reached 3.5 percent. Three-month SIBOR last touched 3.5 percent in 2006, before the global financial crisis led to a sustained drop in local interest rates.
It's more likely that interest rates will rise slowly from current levels, Ng at Maybank said. He expects three-month SIBOR to increase to 1 percent by the end of this year and 2 percent by the end of 2016.
That would still be below the stress-tested levels of 3.5 percent that the MAS requires Singapore banks to use in their calculation of debt-servicing ratios to approve loans.
If home prices fall faster, it may hasten a government decision to remove some property curbs, said Vikrant Pandey, an analyst at UOB Kay Hian Pte in Singapore.
"Once we have a 10 to 15 percent decline in property prices and with interest rates rising, then the government may not need to press on with such strict demand-side measures as demand may slow more than they want," Pandey said.
Before it's here, it's on the Bloomberg Terminal.
LEARN MORE