U.K. Prime Minister David Cameron to Visit Obama Next Week
Cameron is up for re-election in May.
By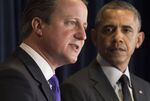 President Barack Obama will host British Prime Minister David Cameron late next week, according to a statement from the White House.
Cameron, who is up for re-election in May, will have a working dinner with Obama on Thursday night and a meeting in the Oval Office on Friday to discuss economic and foreign policy issues. 
The visit will emphasize the "strong bonds of friendship" between the two countries. Earlier this month, Cameron promoted those strong bonds in an interview with the Daily Mail, when he shared that Obama sometimes calls him "bro."