Nigeria Troops Wounded in Northeast Damaturu as Baga Town Bombed
Chris Kay and Mustapha Muhammad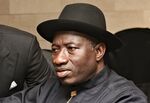 At least five Nigerian soldiers were "fatally wounded" after a battle with insurgents in the northeast city of Damaturu, while forces began bombing the Islamist-controlled town of Baga, the army said.
Damaturu, the capital of Yobe state, was hit last night by "massive attacks from different angles," Nigeria's Defence Headquarters said on its Twitter account today. "Troops are on a mopping-up operation in Damaturu after foiling attempts by terrorists to occupy parts of the town."
The number of casualties is being complied and soldiers are receiving treatment, the military said. Nigerian forces also began bombing the town of Baga, in northeast Borno state, which was attacked twice in the past week by Islamist rebels, Mike Omeri, a government spokesman, said by phone.
Authorities in Africa's largest economy and oil producer are struggling to stem raids and bombings by Boko Haram, which has killed more than 13,000 people since 2009, President Goodluck Jonathan said in September. Violence in the predominately Muslim north is intensifying as Nigeria heads to elections next month. Jonathan, a Christian from the southern oil-rich Niger delta region, will face Muslim northerner and former military ruler Muhammadu Buhari on Feb. 14.
The attack in Damaturu started just after evening Muslim prayers, according to witnesses.
"As we heard the guns firing and explosions we ran helter-skelter back to our homes to escape being caught in the cross-fire," Ahmed Musbahu, a resident in Damaturu, said by phone.
More than 100 people were killed in a battle in the town last month. On Jan. 3, Boko Haram captured the headquarters of a multinational military force in northeast Baga that was set up to combat the insurgency. This week, it attacked the town a second time, with the total of people killed being reported as high as 2,000, according London-based Amnesty International, who said yesterday they are investigating the casualties.
Before it's here, it's on the Bloomberg Terminal.
LEARN MORE