The New Right/Left Free Speech Battle Lines
From Kentucky Senator Rand Paul to the far right in France, conservatives are declaring solidarity with Charlie Hebdo.
By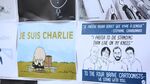 Bill Donohue, the president of the Catholic League for Religious and Civil Rights, is that sort of figure who exists because the media needs him to. The "League" is not a large membership organization; it sends out a lot of press releases, basically. After the Charlie Hebdo killings in Paris, Donohue/the League issued a statement insisting that Muslims were "right to be angry," because "those who work at this newspaper have a long and disgusting record of going way beyond the mere lampooning of public figures, and this is especially true of their depictions of religious figures." They didn't just mock the Prophet Muhammad; "they have shown nuns masturbating and popes wearing condoms."