Tencent Caps Biggest Weekly Gain Since 2011 on Banking Bets
Jonathan Burgos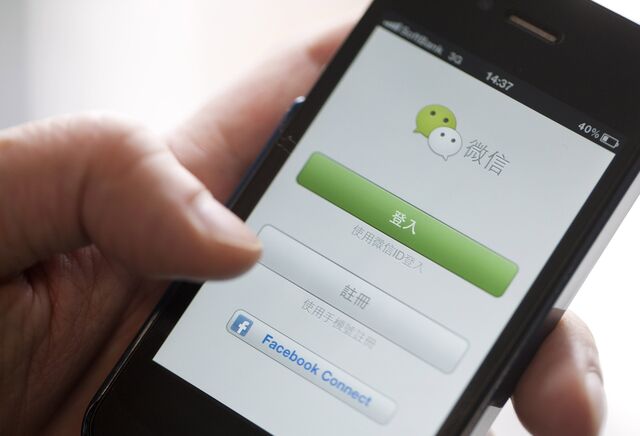 Tencent Holdings Ltd. capped the biggest weekly advance in three years on analyst upgrades and speculation the addition of online banking and stockbroking will boost earnings at China's second-biggest Internet company.
Tencent posted a 13 percent surge this week in Hong Kong, the steepest such gain since October 2011, rallying after JPMorgan Chase & Co. and Mizuho Securities Asia Co. raised ratings and price targets on the company. Kevin Tam, an analyst at Core Pacific-Yamaichi International Hong Kong Ltd., expects more upgrades as Tencent expands into banking and share-trading. The stock rose as much as 1.3 percent in Hong Kong today, before ending the day 0.1 percent lower at HK$127.20.
"Tencent's foray into financial services will provide a short-term catalyst for the stock," Tam said by phone today. "The market hasn't fully taken into account the potential contribution of Internet finance in their valuations. This will help boost Tencent's revenue going forward."
The company's WeBank, China's first online-only private bank, will start operating on April 18, according to a separate report by Beijing News. China will allow individual investors to open stock trading accounts using Tencent's free WeChat messaging service, the Securities Times reported today, citing a plan approved by China Securities Regulatory Commission.
JPMorgan upgraded Tencent to overweight from neutral on Jan. 6 and increased its target price by 13 percent to HK$160, citing prospects for online advertising growth. Mizuho lifted Tencent to buy the following day and increased its target to HK$165 from HK$125, calling the stock its top Internet pick. The average 12-month price estimate from 42 brokerages climbed to HK$148.78, compared with HK$95.30 a year ago, data compiled by Bloomberg show.
User Base
Tencent gets most of its revenue from online games and advertising at its WeChat and QQ messaging applications, according to Tam. The company reported 468 million monthly users for WeChat in the three months ended in September, and 542 million monthly active users for QQ on smart devices. China's biggest e-commerce operator is Alibaba Group Holding Ltd.
Before it's here, it's on the Bloomberg Terminal.
LEARN MORE