Romney Opens the Door to Another Run at the White House
With Jeb Bush surging this week, the 2012 nominee sends a strong signal.
Lisa Lerer and Annie Linskey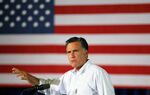 Mitt Romney told donors in New York on Friday that he may run for president in 2016, a development that could upend the Republican field.
Toward the end of a meeting  with about 30 donors at a midtown Manhattan office, he said: You all can leave from here and tell your friends I'm considering a run, according to a person who was there. When asked if he would like to be president, Romney smiled and said that he's run twice and so of course he wants the job. The person declined to be named because they weren't authorized to discuss it publicly.  
After months of saying he had no plans to run for president, his change of heart was due to encouragement in recent weeks from donors and other backers, a Romney adviser told Bloomberg Politics. On Wednesday, he dined with former aides in Palo Alto after teaching a class at Stanford, including former policy director Lanhee Chen, spokeswoman Andrea Saul, and lawyer Ben Ginsberg. He then flew to Boston for the inauguration of Massachusetts Governor Charlie Baker.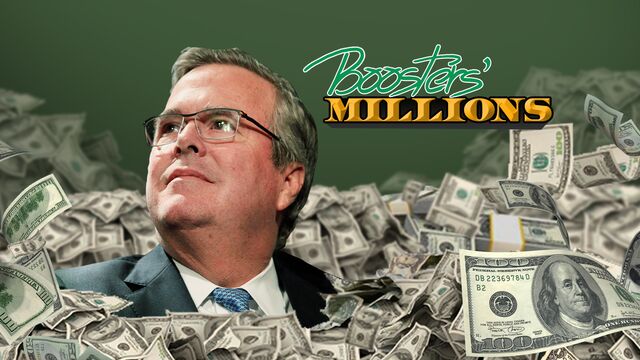 Previously, Romney has told former aides that he didn't believe Bush could win. In a hypothetical Bush-Clinton match-up, Romney told confidants that it would come down to a referendum on the dynasties previous administrations, and that voters would opt for Clinton nostalgia over Bush because it was a better economic period, two former advisers to Romney said. At least a few former aides were caught off-guard by Romney's remarks, as they had no indication this kind of an announcement was coming. 
Romney's name has been floated for the past six months as a potential candidate for the Republican nomination, and he led Jeb Bush and the rest of the Republican field by a wide margin in early polls. However, big donors in the GOP establishment have begun coalescing around Jeb Bush, who announced last month that he's considering running and wooed Wall Street donors at fundraiser this week in Greenwich, Conn. 
It would be the third presidential campaign for Romney, a former Massachusetts governor. In 2012, Republicans spent more than $1.2 billion trying to elect Romney, according the Center for Responsive Politics. Should he go ahead with a campaign, he would immediately start a competition with Bush for the establishment mantle. It would also increase the pressure on New Jersey Governor Chris Christie to decide whether or not he's in the presidential race.
Two Republican strategists all but dared Romney to join the race. "The immediate beneficiaries from this new Romney revelation? Car elevator builders, Cadillac stocks and of course ... Rafalca," said Hogan Gidley, a Republican strategist who worked for Mike Huckabee in 2008 and Rick Santorum in 2012. Doug Stafford, Rand Paul's chief political adviser, rolled out the red carpet. "As Senator Paul has said previously, the more the merrier," he said.
One close Romney adviser tried to slam the door on any and all rumors in October. Asked by the Los Angeles Times is there was any chance of a Romney run in 2016, his wife Anne Romney emphasized the same word five times: "Done," she said. "Completely. Not only Mitt and I are done, but the kids are done," she replied. "Done. Done. Done."
David Weigel contributed to this report.